Experts team up to fight threats to cities, wildlife and people
22 January 2019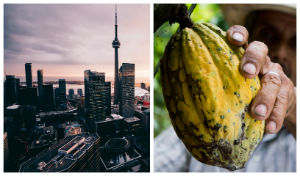 Cities of the future could be made more resilient to natural disasters, and wildlife and humans protected from extinction and poverty, thanks to £40m of funding for two new research programmes.
The University of Reading will be at the forefront of tackling these complex global challenges after two interdisciplinary research hubs involving its experts were successful in bids for a share of UK Research and Innovation's (UKRI) £1.5bn Global Challenges Research Fund (GCRF). Each programme will receive £20m over five years.
Professor Sue Grimmond is part of the GCRF Urban Disaster Risk Hub chosen for funding, while Professor Elizabeth Robinson is part of the GCRF Trade, Development and the Environment Hub. The first seeks to investigate how cities can better withstand hazards like floods, earthquakes or landslides, while the latter will look at how the trade of resources, whether sourced from the wild, such as bushmeat, or cultivated, such as palm oil, impacts people and the environment.
The GCRF Urban Disaster Risk Hub comprises research based in four cities around the world – Nairobi (Kenya), Quito (Ecuador), Istanbul (Turkey) and Kathmandu (Nepal) – chosen due to their exposure to various natural hazards and for variation in urban layout, development status and governance. It aims to build resilience against extreme events like volcanic eruptions and cyclones into development plans for towns and cities.
The project, led by the University of Edinburgh, could help billions of the world's poorest communities avoid threats to their lives and livelihoods. Professor Grimmond will take a leading role in developing models to predict weather processes within city environments.
Professor Grimmond, from the Department of Meteorology at the University of Reading, said: "Climate change is expected to increase the likelihood of extreme weather in the coming decades, while cities are set to expand rapidly. This is a real opportunity to collaborate with leading experts to ensure future cities are built to withstand natural disasters, rather than reacting once the damage is done. Incorporating disaster risk reduction measures into city planning could also help meet Sustainable Development Goals set out by the United Nations."
The GCRF Trade, Development and the Environment Hub includes economic, political and science experts alongside companies, NGOs and the UN, and is led by the UN Environment World Conservation Monitoring Centre.
The team will work together to ensure trade drives positive change around the world. It aims to reduce the loss of biodiversity and environmental damage caused by intense farming and hunting in countries which base their economies on natural commodities, and lift people out of the poverty that this causes.
Research will be based in South America, Africa and Asia. Professor Robinson will work primarily in Tanzania, east Africa, focusing on the impact of trade policies and power relations on ecosystem services and poverty in lower-income countries. She has more than 25 years of experience undertaking research into the hunting of wild animals for food, forest governance, and resource-based livelihoods in many countries across sub-Saharan Africa and Asia.
Professor Robinson, from the School of Agriculture, Policy and Development at the University of Reading, said: "International trade can provide opportunities for poverty reduction and economic growth in lower-income countries. Yet weak governance and imbalances in trade relations can put pressure on people's livelihoods and continue to lead to severe environmental degradation and loss of biodiversity, thereby exacerbating rather than reducing poverty.
"Thanks to this funding, we will be able to address some of the key challenges and opportunities that the increasing interconnectedness of trade brings, focusing on wild species and agricultural commodities. We recognise that domestic institutions, international trade policies, consumers in higher-income countries, and multi-nationals all have a role to play in ensuring increased prosperity through trade without damaging the environment further."
Professor Dominik Zaum, Pro-Vice Chancellor for Research and Innovation at the University of Reading, said: "We are delighted to play a part in two of the interdisciplinary GCRF Hubs, and look forward to working with the UK and global partners to address some of the world's biggest development challenges. These hubs will further our engagement with global development challenges, which is a key research focus of the university, reflected in our investment into the establishment of a Global Development Research Division, and the Walker Institute."
Announcing the 12 UKRI GCRF Hubs alongside 16 other international research partnerships, Science and Universities Minister Chris Skidmore, said:
"The UK has a reputation for globally influential research and innovation, and is at the centre of a web of global collaboration – showing that science has no borders. We have a strong history of partnering with other countries – over 50% of UK authored research involves collaborations with international partners.
"The projects being announced today reinforce our commitment to enhance the UK's excellence in innovation at home and around the world, driving high-skilled jobs, economic growth and productivity as part of the modern Industrial Strategy."
Professor Andrew Thompson, UKRI Champion for International and Executive Chair of the Arts and Humanities Research Council (AHRC), said: "The sheer scale and ambition of these Hubs is what makes them so exciting. They enable us to deliver a coordinated global response with UK researchers working in partnership with researchers, governments, NGOs, community groups and international agencies across developing countries. Each Hub has the potential to transform the quality of life for multitudes throughout the world and safeguard our planet for future generations."
Notes to editor
UK Research and Innovation works in partnership with universities, research organisations, businesses, charities, and government to create the best possible environment for research and innovation to flourish. We aim to maximise the contribution of each of our component parts, working individually and collectively. We work with our many partners to benefit everyone through knowledge, talent and ideas.
Operating across the whole of the UK with a combined budget of more than £7 billion, UK Research and Innovation brings together the seven Research Councils, Innovate UK and a new organisation, Research England. www.ukri.org
The Global Challenges Research Fund supports cutting-edge research and innovation that addresses the global issues faced by developing countries. It harnesses the expertise of the UK's world-leading researchers, focusing on: funding challenge-led disciplinary and interdisciplinary research; strengthening capability for research, innovation and knowledge exchange; and providing an agile response to emergencies where there is an urgent research or on-the-ground need.
It is a £1.5 billion fund which forms part of the UK Government's Official Development Assistance (ODA) commitment and is overseen by the Department for Business, Energy and Industrial Strategy (BEIS), and delivered through nine delivery partners including UK Research and Innovation, the UK Academies, the UK Space Agency and other funding bodies.