Internship scheme bridges gap between student and employer
23 January 2019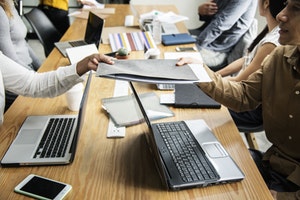 Students and employers are benefiting from shared skills and experiences thanks to an internship scheme re-launched for the new year.
The Reading Internship Scheme (RIS), which has helped students from the University of Reading access paid placements since it began in 2015, offers support to SME employers in the recruitment of talented student interns.
Thanks to funding from the Access fund, Santander Universities and The Earley Charity, the scheme provides bursaries of 50% to SMEs and 100% to charities to cover student salaries, meaning neither employer or student are out of pocket.
Students are also provided with pre-internship training, and regular visits during their placement.
With around a quarter of students from the University remaining in the local area to live and work following graduation, and many more staying in the London and Thames Valley region, the scheme provides valuable experience and networking opportunities for students and employers alike.
RIS Coordinator Holly Forsyth, from the University's Careers Centre, said:
"The Reading Internship Scheme (RIS) is our flagship scheme, helping connect local SMEs and our talented students together.
"The scheme is a great way for employers to invest in our future talent pipeline, and for students to develop their professional skillsets. "
Launching the scheme for 2019, Acting Vice-Chancellor Robert Van de Noort welcomed delegates to the Meadow Suite on the University's Whiteknights campus on Tuesday, January 15.
Among the attendees were former intern Catherine Chan, who gave an insightful talk reflecting on her experiences of the programme, and how it benefited her career.
To find out more about the Reading Internship Scheme, contact Holly Forsyth on h.forsyth@reading.ac.uk or 0118 378 6040.