'Ballerina feet' allowed mammals to get big and rule the world
29 January 2019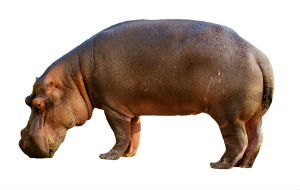 Evolving to walk on tiptoes allowed mammals to rapidly evolve larger body sizes and dominate the globe, according to a new study.
Scientists at the University of Reading and University of Tokyo have reconstructed for the first time the evolutionary history of foot posture in 880 mammal species. They found that many mammals evolved from being flat-footed to having tiptoed and hooved feet and that this was accompanied by rapid changes in body size.
It shows that large mammals like rhinos, hippos and giraffes all grew bigger extremely quickly in evolutionary terms. The added mobility and energetic efficiency that their new feet offered is thought to have allowed them to hunt prey or evade predators more effectively and given them a survival advantage.
Dr Manabu Sakamoto, biological scientist at the University of Reading, said: "Mammals got very large very fast as they began to walk like ballerinas. The tiptoed and hooved feet they developed led to the large mammals we know and love today. These animals dominate the landscape – you don't see one-tonne, flat-footed herbivorous lizards.
"The research also reveals what today's mammals have in common with dinosaurs that lived millions of years ago. Dinosaurs are the only other group in history to evolve tiptoed feet and attain giant multi-tonne sizes. This is a topic we would like to investigate next."
The research is published in the journal PNAS and was jointly led by Dr Sakamoto and Dr Tai Kubo at the University of Tokyo.
The scientists recreated the evolutionary history of foot posture and tested their effects on body size. They found mammals evolved from flat feet, to tiptoed postures, and then to hooved feet.
Crucially, they found that body size evolved much faster at evolutionary transitions between foot postures - nearly seven times faster than within the same foot posture.
Further work, incorporating data from fossils, is needed to show if foot postures drove body size evolution, or vice versa.
Full reference
T. Kubo, M. Sakamoto, A. Meade, C. Venditti (2019); 'Transitions between foot postures are associated with elevated rates of body size evolution in mammals'; PNAS; doi: 10.1073/pnas.1814329116