Astronaut talk to mark 50th anniversary of moon landing
01 July 2019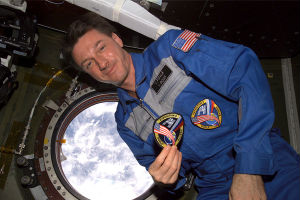 A NASA astronaut who has been to space six times, accumulating more than 370 days in orbit, is to give a talk on his career at the University of Reading.
Dr Michael Foale, the most experienced British-born astronaut in the history of human spaceflight, will be appearing at the University's 3Sixty venue to talk about his 26-year career, which saw him service the Hubble telescope and perform tours on both the International Space Station and the Mir platform.
Mathew Owens, Professor of Space Physics at the University of Reading, who will also be delivering a talk on space weather, said:
"The space group at Reading works closely with the Met Office to improve forecasting of space weather, which contributes to making space exploration just a little bit safer.
"Having Michael Foale visit - someone who's experienced first-hand how dangerous space can be - is really exciting. And more personally, given I'm involved in a project which uses Hubble Space Telescope observations, it's going to be great to be able to say a personal thanks to one of the people who fixed its eyesight and made it such a scientific success."
The first Briton to perform a spacewalk, Dr Foale kept a level head when the Mir station's Spektr module was struck by resupply vessel, sending the module tumbling out of control. Dr Foale managed to call upon his expert knowledge of physics to calculate how the stars were moving past his fixed-thumb reference on a window to advise Russian ground control how to stop the roll.
Born in Lincolnshire in 1957, Dr Foale gained a first-class honours degree from Cambridge University before leaving the UK to pursue his dream of becoming an astronaut and joining the US space agency. He retired from NASA in 2013 and was inducted into the NASA Astronaut Hall of Fame Class of 2017 at the Kennedy Space Center.
The event will coincide with the 50th anniversary of the Apollo 11 moon landing which took place on the 20 July 1969.
Dr Foale's talk, in partnership with Pint of Science and the International Space School Educational Trust (ISSET), will take place at 3Sixty at the University of Reading Students' Union at 7.30pm on Wednesday 17 July. Tickets start from £12.50. For more information and to book, visit http://bit.ly/DrFoaleUoR .