Reading in the news - Tues 2 Jul
02 July 2019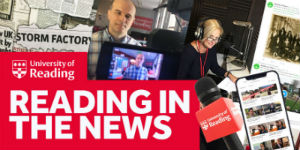 Mexico hailstorm: New Scientist quotes Dr Amulya Chevuturi (Meteorology) on the bizarre heavy hailstorm in Mexico that buried cars this week, while New York Times and NDT quote Dr Chris Westbrook (Meteorology) on the phenomenon.
Brain communication: Spanish publication SUR runs two articles (Article 1 and Article 2) on a presentation by Professor Kevin Warwick (Cybernetics) at an event on artificial intelligence in Malaga.
Space weather: Newsbeezer, Phys.org and Long Room report on a Reading study on complex CMEs ahead of a Science and Industry Museum exhibition opening in Manchester this month. Read our news story.
Diverse leadership: Forbes publishes an article by Shaheena Janjuha-Jivraj (Henley Business School) on social mobility and leadership.
Research awards: Reading Chronicle reports the 2019 winners of the University's Engagement & Impact Awards. Read our news story.
Other coverage
BBC Radio Berkshire interviewed two students at the Silchester Archaeology Field School to preview this weekend's open day.
Reading Chronicle reports that Broad Street Mall won the Business Champion of the Arts prize at the Reading Cultural Awards last week, in part thanks to a collaboration with Reading International to bring a temporary art installation into a unit in the shopping centre. Read our news story on the art project.
German publication Welt reports on the #ShowYourStripes campaign focused on a climate stripes graphic created by Professor Ed Hawkins (Meteorology). Read our news story.
National Farmers' Union refers to a Reading project investigating how phosphorous can be reduced on farms in England.
Hindustan Times quotes PhD student Akshay Deoras in the latest article on the monsoon season in Mumbai.
Get Reading and Maidenhead Advertiser quotes Dr Roger Brugge (Meteorology) on the unusually hot weather in Reading on Saturday.
Food Manufacture interviews a Reading student in the bronze medal-winning team in this year's Ecotrophelia food innovation competition. Another Reading team also won gold in the competition. Read our news story.
A Bike Biz article refers to a Reading CycleBoom study on the health benefits of cycling. Read our news story.
Wokingham Paper reports on an upcoming event featuring talks by a NASA astronaut and Reading space scientist. Read our news story.