WHO guidelines to cut dairy could increase the risk of heart disease
04 July 2019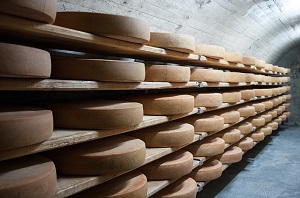 Peer Reviewed
Opinion
WHO guidelines on saturated fat consumption may unintentionally increase risk of heart diseases according to new research on health effects of dairy.
Risks of cutting dairy from people's diet has been highlighted in a new paper in the British Medical Journal published today by an international group of academics including from the University of Reading.
The team have pulled together evidence from peer-reviewed papers on the effect of different types of dairy products and on different health risks. They warn that WHO guidelines that suggest reducing saturated fat intake to 10% of total energy intake is not evidence-based and may put people at risk around the world by encouraging people to replace dairy in their diet that could have a positive health effect.
Professor Ian Givens from the University of Reading said:
"We are increasingly alarmed that advice from leading health bodies fails to take into account a growing body of evidence. Our paper sets out how there are potentially important benefits from consuming dairy foods which could be lost from cutting dairy out of a diet."
"Evidence should sit at the heart of public health messages and we are calling on the WHO and others to look at a deeper understanding of the relationship between whole food and health and not just on how much saturated fat a food contains."
The team warn that judging the health effects of dairy based only on the basis of its saturated fat content fails to take into account research which suggests that whole dairy products, such as milk, cheese or yoghurt can have positive health effects including decreased risk of Cardiovascular Disease (CVD) and Type 2 Diabetes. In addition, most dairy foods are important sources of key nutrients including iodine and calcium.
In particular, fermented dairy products such as cheese and yoghurt have been singled out for their positive health effects. The paper highlights existing evidence both from epidemiological and randomised control trials about dairy's potential role to protect against Type 2 Diabetes (yoghurt) and markers for Cardiovascular Disease (cheese).
Professor Arne Astrup from the University of Copenhagen who led the study said:
"The composition of food and the food source has a substantial impact on the digestion, absorption and metabolism of lipids in the blood, which are independent cardiovascular disease risk factors. Recent evidence shows that some foods with high content of saturated fat actually lower cardiovascular risk due to other effects than just on blood cholesterol.
"Our findings suggest very clearly that it is essential with a food-based translation of the recommendations for saturated fat intake to avoid unnecessary reduction or exclusion of foods that are key sources of important nutrients."
The team also note that further research is required to better understand the specific nature of whole dairy products and why they are potentially beneficial for health.
Full citation:
Astrup, A., et al. 2019, WHO draft guidelines on dietary saturated and trans fatty acids: time for a new approach?, BMJ 2019;365:l4137 doi: 10.1136/bmj.l4137
The diversity of the saturated fatty acids in foods
Saturated fats are found in a variety of foods including:
In 'unprocessed' meat that hasn't gone through a preserving process, fatty acids are present in cells called adipocytes that store energy.

Lard and shortening are also produced from animal fat and are 100% fat lipids.

'Processed' meats can contain additional fat from added products such as gelled protein matrix (such as Myosin used in making sausages for example), or free fat domains (fats that are not attached to other parts of food) which are used to modify the consistency, appearance or flavour of the end product.

In dairy products,

Full-fat milk contains fat globules and emulsified in water. Meanwhile, the fat droplets in marketed homogenized milk are much smaller and covered with proteins.

Butter is an emulsion made mostly of butterfat taken from churning milk and mixed with water.

Yogurt is a fermented food containing live cultures, in which milk fat globules are dispersed in the gelled milk protein matrix.

Cheese is one of the most complex dairy matrices. It is a fermented food containing live cultures, where fat is present within milk fat globules, and sometimes free fat inclusions, in a more or less solid matrix rich in milk proteins, calcium and milk fat globule membrane.

Ice cream contains a combination of crystallized fat globules around air bubbles, and ice crystals in a liquid syrup phase.

Egg yolk contains lipids structured as both low- and high-density lipoproteins.

In 'highly processed' sweet baked foods such as pastries and cookies, fat (often palm oil which can be highly saturated, or butter) is mixed within a more or less solid, often sugar-rich, carbohydrate matrix – often described as creaming or creating sugar shortening.

Chocolate is composed of particles (such sugar), and fermentation products from cocoa bean which are embedded in solid fat.
Saturated fatty acid-rich vegetable oils such as palm oil and coconut oil are 100% fat.