Reading in the news - 10 July
10 July 2019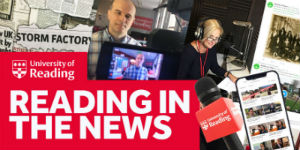 UK ambassador: Dr Mark Shanahan (Politics and IR) spoke to BBC News Channel about US President Donald Trump's tweets relating to the UK's ambassador to America.
MBA courses: Sunday Times have published a guide to MBA courses available in the South East, which includes Henley Business School's offering.
Elephants: A study published about habitat loss of elephants is reported by Geek.com. The article quotes lead author Dr Vicky Boult (SBS).
Other coverage
Prof Flora Samuel (Architecture) has written for Times Higher Education, reviewing a book called 'the Cunning of Uncertainty'.
Guardian Nigeria report on a new tech hub in the country partnering with Henley Business School to boost infrastructure.
10 tips for reducing stomach bloating includes a mention of a study on consumption of magnesium on fluid retention, in the Daily Star.
Architects Journal report on new light touch plans around the redevelopment of the URS building.
The University has joined local partners in Reading to support a scheme where large-scale developments help to fund programmes to tackle job inequality, reports Living Reading.
GetReading report on one of the shortlisted candidates for the Pride of Reading young person of the year award which is sponsored by UoR.
Dr Tara Pirie spoke to BBC Berkshire as part of an ongoing series called 'coffee club'.