Reading in the news - 16 July
16 July 2019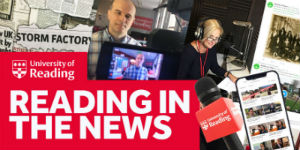 Air turbulence: Further coverage of comments by Prof Paul Williams (Meteorology) about an Air Canada flight which encountered severe clear air turbulence, injuring a number of passengers in the New Zealand Herald, Stuff.co.nz and the Chicago Tribune (not available in UK). Read our news story on Professor Williams' research.
Ofsted criticism: Times Education Supplement carry a letter co-signed by Prof Karin Lesnik-Oberstein (English Lit) about overhauling Ofsted with a new school inspectorate.
Global climate change: Professor Mike Lockwood (Meteorology) is quoted in the Times (in print) on a study about global heat rise and cities.
Other coverage
ITV Meridian spoke to VC Robert Van De Noort about the University's consultation to develop plans on increasing environmental sustainability, and work more closely with other regional organisations.
Prof Mike Fulford (Archaeology) spoke to BBC Berkshire (approx. 2hr 14 mins in) about the latest excavation of Silchester Roman town.
Architects Journal feature a story about the URS building redevelopment in their weekly roundup (£).
Business Magazine report that a UoR Law graduate Emily Riesco has joined local law firm Blandy & Blandy.