Reading in the News - 18 July
18 July 2019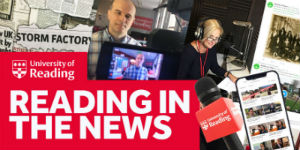 Snow cannons to save the Antarctic?: Dr Robin Smith (Met) is quoted in Mailonline, Independent, Express, and Yahoo! News about a third party publication of research suggesting that using snow cannons to freeze water around the West Antarctic ice sheet to protect against catastrophic sea level rise.
Racist President: Dr Mark Shanahan (Politics and IR) argues in iNews that US President Donald Trump's recent racist tweets are a campaign tactic rather than off-the-cuff remarks.
Double-0 VC: Financial Times (£) reports on the release of previously confidential files from the National Archive that suggest former UoR Vice-Chancellor John Wolfenden had been acting as a liaison between University heads and a Govt committee worried about radical student behaviour in the late 60s.
Other coverage
People Management report on a potential bill to make flexible working standard across businesses, and mentions a recent Henley Business School report on a four-day week.
The start of an archaeological dig at Lyminge Parish Church in Kent is reported in Kent Online and Kent Live News.
BBC Berkshire spoke to Dr Louise Johnson (Biological Sciences) about a new student award named after former student Tina Negus whose discovery of a fossil was not acknowledged for 50 years. Read our news story here.