Campus wins ninth Green Flag award
16 July 2019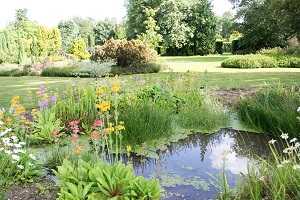 The University of Reading's Whiteknights Campus has been recognised as one of Britain's top green spaces for the ninth year in a row.
Called a "green lung" by local residents, the campus which sits along the border between Reading and Wokingham Boroughs is set within 123 hectares. It provides a natural environment for local species, a green space for local residents, staff and students and a historic venue for trees – some of which are more than 200 years old.
Stephen Boon, Maintenance Services Director at the University of Reading, said:
"With its distinctive woodland walks, conservation meadows, large lake and the beautiful Harris Gardens (pictured) the University of Reading's Whiteknights Campus continues to be a gift that is available to be enjoyed by all.
"Whiteknights campus has been described by local people as a 'green lung' and the 134 hectares are managed to a very high standard by an expert and committed grounds team. Areas of meadow are left uncut to provide habitats and food for seed-eating birds and butterflies, while the lake is a haven for fish, birds and insects.
"These initiatives and others provide a peaceful and enjoyable environment and an important way to support the University's sustainability efforts."
Each year, the Green Flag Award scheme recognises the UK's best public outdoor spaces, with winners judged on the overall quality of green space and the work that goes into keeping grounds in pristine condition.
The Green Flag Award Scheme is run by the environmental charity Keep Britain Tidy. Now in its 23rd year, it recognises spaces within both the UK and overseas for setting benchmarks in grounds upkeep and accessibility. This year, a record-breaking 1,883 Green Flags awards were given to green spaces across the UK, almost 100 more than in 2017. Any green space that is accessible to the public is eligible to enter for a Green Flag Award.