Politics student overcomes liver disease to graduate
18 July 2019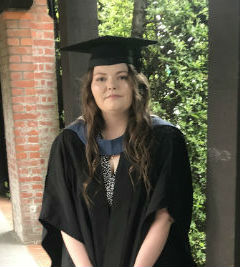 A student whose university studies were interrupted by a life-saving liver transplant has celebrated her graduation this week.
Madeleine Murphy, from Barnet in north London, received her degree from the University of Reading on Wednesday (17 July), five years after she first started due to battling a rare, untreatable liver disease she was diagnosed with aged seven.
The 23-year-old's time at university included a year out to have a split liver transplant two years ago, with the right lobe of her liver being replaced after a donor was found.
After achieving a 2:1 in Politics and International Relations, Madeleine has reflected on the operation that saved her life and overcoming adversity to earn her degree.
"I'm shocked that I'm here to be honest," said Madeleine. "The liver transplant saved my life, and I didn't even think I would ever end up passing my degree. It's the biggest achievement of my short life, so I'm very happy."
After completing the first two years of her degree full time, Madeleine was forced to go part time as the illness got worse. She was then listed for a transplant but suffered the setback of the first liver identified for her being found to be unfit for transplant.
The long-awaited call to say a suitable liver had been found prompted her to take a year out of her studies to have the transplant at Kings College Hospital in London, before returning to Reading to complete her degree.
Madeleine said: "I struggled badly with fatigue and nausea, and people can't see that. It was literally sometimes physically impossible to get out of bed.
"I had a lot of support. I've made my best friends in the whole world here. In this last year, my dissertation supervisor was the loveliest person you could ever meet."
Madeleine said she was planning to sidestep into the bakery business as a career, making gluten and dairy-free products for people with intolerances who struggle to find suitable foods.
She said: "It has nothing to do with my degree, but I think it (the degree) gives you skills to do things you never thought you could do."