Law Graduates win work with top firm
18 July 2019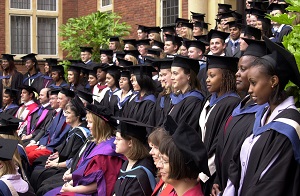 Two law students have won an opportunity to work with one of the top Family Law firms in the country.
The head of the local branch of Stowe Family Law presented Shama Ali and Alice Hanney with the award and the opportunity to gain work experience with the firm, after the students achieved top marks in their final year Family Law exam.
Dr Therese Callus, Module convenor for Family Law said:
We are delighted that Shama and Alice will benefit from work experience kindly provided by Stowe Family Law. Our collaboration with local firms is very important and enables our students to combine academic study with practical insight. We are very grateful for the support that Naheed Taj and her team provide.
Accepting her prize, graduating student Alice Hanney said:
"I found family law the most enjoyable part of my degree. Thanks to Stowe Family Law for sponsoring the prize: I am excited to work with them."
Shama Ali said: "Stowe's support has been appreciated because it allows students to see the practical side of the law."
Ali and Hanney both achieved first-class honours in the module with the top marks out of the year. At a ceremony at Foxhill House on Wednesday 17 July Naheed Taj, Managing Partner at Stowe Family Law, Reading, presented the joint winners with their prize.
Naheed Taj, Managing Partner at Stowe Family Law, Reading said:
At Stowe we are passionate about training young people and giving them guidance and insight into life as a family lawyer. This guidance can be critical in helping them to understand whether family law is right for them and if so, allowing them to build confidence to be leaders in this field later in their career.
Law at the University of Reading
The University of Reading's undergraduate Law degree draws on commercial awareness, access to well-established industry connections and breadth of placement opportunities to expand students' knowledge and experience in the legal field.
The University provides a dedicated careers adviser and a calendar full of career-orientated events. As well as providing help with CV writing, placement applications and interview techniques, we also host commercial awareness workshops. Our careers talks cover a range of employment options available to law graduates, including the Crown Prosecution Service, accountancy and management training.
We have excellent links with industry, and a number of well-respected law firms in the country support us with work experience placements ring-fenced exclusively for University of Reading law students. Students can also gain insight into aspects of the profession by participating in local pro bono projects.
More details at http://www.reading.ac.uk/law/undergraduate-degrees/law-careers.aspx