Reading in the news - Mon 22 Jul
22 July 2019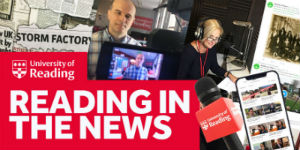 Lion King remake: The Telegraph quotes Professor Peter Miskell (Henley Business School) on why people no longer seem to be seeking out new films at the cinema.
Britain's Conservatives: Al Jazeera quotes Dr Mark Shanahan (Politics & International Relations) on how the UK's next Prime Minister will be chosen.
Illustration exhibition: Art Daily reports on a new exhibition at House of Illustration in London, the first to be solely dedicated to children's illustrator Marie Neurath. Read our news story.
Apollo 11 anniversary: BBC 5 Live interviewed Professor Mathew Owens (Meteorology) about the weather dangers that threatened to scupper the Apollo 11 moon landing mission as it returned to Earth.
Baby llama: BBC South and BBC Radio Berkshire report on a poll to name the University's new baby llama either Boris or Jeremy. Read our news story on the crucial role the University's llamas play in lifesaving research.
Graduation success: The Reading Chronicle report the story of a Politics & International Relations student who had to take time out of her studies for a liver transplant before graduating last year. BBC Radio Berkshire also spoke to a mother of a Reading student who took his own life in 2016, in whose honour a new award was presented at last week's graduation, about the support she received from the University.
Other coverage
Dr James Reade (Economics) spoke to Share Radio about the Chinese Super League and why its football clubs are able to attract star players from Europe.
Get Reading reports on billboards relating to the latest Reading International art project that have been installed in Reading town centre.
Get Reading reports that the University of Reading has received a ninth Green Flag Award for the Whiteknights campus.
Hawkinge Gazette reports on an Anglo-Saxon archaeological project in Lyminge, Kent.
Long Room reports on a new form of lactose discovered by Reading scientists. Read our news story.
Long Room also reports on research into human-elephant conflict in Africa. Read our news story.
Nutrition.org publishes a guest blog by PhD student Imogen Allen (Food & Nutritional Sciences) on how 3D food printing could be useful for space travel.
The International Rice Research Institute reports on the Seed Quality Management Workshop in June, where Professor Richard Ellis spoke on seed science.
Uncova and Global Diaspora News mention a Reading study revealing the benefits of pure orange juice to the brain. Read our news story.
Coin Telegraph quotes John Keogh (Henley Business School) on how the food industry makes use of Blockchain technology.