Reading in the news - Mon 15 Jul
15 July 2019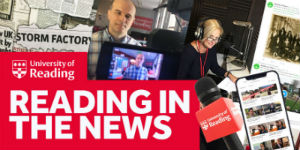 Air turbulence: BBC News 24 interviewed Professor Paul Williams (Meteorology) about an Air Canada flight which encountered severe clear air turbulence, injuring a number of passengers. Professor Williams also spoke to CBC in Canada and BBC Radio 5 Live, with the interview also being broadcast across all BBC regional stations. Print and online coverage also in BBC News Online, IFL Science, Euro News, the Telegraph, Emirates247, Simple Flying and dozens of news sites around the world including Japan Today, Honolulu Star Advertiser and Lexington Herald Leader. Read our news story on Professor Williams' research.
Antidepressants and dementia: The Guardian quotes Dr Parastou Donyai (Pharmacy) on a study linking some antidepressant medication with dementia risk.
Four-day week: Henley Business School's study on the advantages of a four-day working week is covered by Sunday Politics on BBC One. The story was also covered by BBC Radio Oxford with Professor Karen Jansen (Henley Business School). Read Henley's news story.
Global climate change: Professor Mike Lockwood (Meteorology) is quoted in the Times, Indy100 and Stoke Sentinel on a study showing how climates in cities around the world will change under climate change. Talk Radio interviewed Professor Richard Allan (Meteorology) on the same topic.
Thinning clouds: Professor Richard Allan (Meteorology) spoke to New Scientist about how high-altitude clouds are getting thinner, making the climate more sensitive to greenhouse gases than expected.
Other coverage
France 24 interviewed Dr Therese Callus (School of Law) about the laws around right to die following the Vincent Lambert case in France.
Support from the University for a takeover bid for Reading Prison is reported by BBC Radio Berkshire, with Vice-Chancellor Professor Robert Van de Noort interviewed.
Angelo Palacios (Henley Business School) writes a piece for La Nacion about financial lending in Paraguay.
Launchpad, a charity set up by Reading students, is involved in an event exploring sustainable housing solutions, reports the Reading Chronicle.