Animal research: Studying brain electricity in mice to tackle Alzheimer's
23 July 2019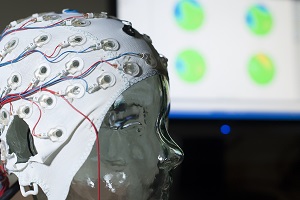 New ways to screen for Alzheimer's Disease are being developed by the University of Reading through its experimental work with mice.
Scientists from the School of Chemistry, Food and Pharmacy are working with partners in Exeter and San Marino to create a way to test for early warning signs relating to dementia by looking at how electricity passes around the brain.
By tracking differences in mice brains which show symptoms of dementia, Dr Francesco Tamagnini and colleagues have been able to build a screening tool that could in future help people know if they are at risk of developing Alzheimer's.
Dr Tamagnini, from the Reading School of Pharmacy at the University of Reading, said:
"One of the hardest things about treating dementia is that noticeable symptoms, such as memory loss, only develop after many years of damage to the brain. That's why it's so important to find early signs of the disease.
"The tool that we're developing uses technology that is already available widely, is non-invasive and can be run using a simple computer programme. Our hope is that through this work and other new discoveries in dementia we can provide hope for future generations and relief for those affected by the disease now."
Dr Tamagnini has also worked with Alzheimer's Research UK to publish 'Of Mice and Dementia' – a series of discussions between scientists and members of the public about the role of animal research in tackling dementia.
This work is just one example of how the University of Reading is carrying out research using animals to tackle global health challenges. Others include:
'Brain glue' for Alzheimer's
Scientists from the University of Reading, including Dr Mark Dallas, are studying how the 'glue' cells that stick our brains together may provide insights into the development of dementia. Find out more about brain glue for Alzheimer's >
Heart disease
A team from the Institute of Cardiovascular and Metabolic Research are taking strides in understanding how platelets that clot blood offer clues to tackling heart disease. Find out about our research into heart disease >
Epilepsy
Pharmacy and psychology researchers are working with industrial partners to study how chemicals from cannabis could lead to new drugs for people with epilepsy, and other diseases. Learn how drugs from cannabis are helping children with epilepsy >
Allergies
Dr Marie Lewis from the Department of Food and Nutritional Sciences is working to understand how allergies are formed in microbiome in the first fledgling stages of life. Read about links between allergies and gut bacteria >
The University of Reading already provides detailed information about the work it does on research that involves animals on our website, which was shortlisted in 2018 for an Openness in Animal Research award from Understanding Animal Research. This year, the University has also published for the first time details of data on the recorded severity of procedures, along with explanations of what this means, plus full summaries of every project for which it currently has a licence from the Home Office.
Find out more about Animal Research at the University of Reading on our dedicated web pages: https://www.reading.ac.uk/research/research-environment/animal-research.aspx