Animal research: Changing cow diets to cut greenhouse gas emissions
24 July 2019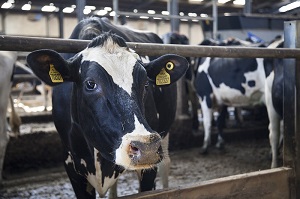 Dairy cows produce millions of litres of milk every day in the UK. But they also produce millions of litres of something else – methane – one of the most potent greenhouse gases.
For dairy farmers who are looking to reduce their impact on climate change, cow burps are a problem. That's why research at the University of Reading is looking to understand how changing the diet of dairy cattle could reduce the impact of their emissions on the climate.
Video: Reading researchers tell BBC News how changing cow feed could cut methane emissions
Professor Chris Reynolds, from the School of Agriculture, Policy and Development at the University of Reading, who leads the study, said:
"We are already seeing that by changing cows' diets, we can reduce methane produced by dairy cows by up to 30%. Given that a dairy cow can burp 600 litres of methane every day, there is a huge potential to make a positive impact on the climate through this research."
The University of Reading already provides detailed information about the work it does on research that involves animals on our website, which was shortlisted in 2018 for an Openness in Animal Research award from Understanding Animal Research. This year, the University has also published for the first time details of data on the recorded severity of procedures, along with explanations of what this means, plus full summaries of every project for which it currently has a licence from the Home Office.
Find out more about the University of Reading's work with animals in research at:
https://www.reading.ac.uk/research/research-environment/animal-research.aspx