Reading in the News - Tues 23 July
23 July 2019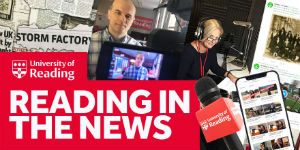 Name the Llama: Various news outlets including The Evening Standard, BBC News (and online), BBC South, BBC Radio Berkshire, The Reading Chronicle and Heart Radio Berkshire report on the University's campaign to name the new baby llama, or cria, which has been born on one of the University's farms. A total of 674 votes were cast in our Twitter poll, with the winner being announced this morning by Professor Gary Stephens (Pharmacy) as Jeremy with 69% of the votes. Read our original story here.
Climate Stripes: Professor Ed Hawkins' climate stripes graphic is the subject of a column in The Times
New PM: BBC News ran a piece on the Conservative leader election, speaking to students and graduates from the University, including the new RUSU President, Molly Cleaver.
Moon Landing: Radio 5 Live spoke to Professor Mathew Owens (Met) about the weather conditions which affected the return of the Apollo 11 spacecraft after its crew walked on the moon for the first time 50 years ago.