Reading in the News - Weds 24 July
24 July 2019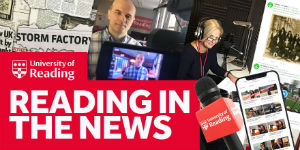 Boris Johnson: Dr Mark Shanahan (Politics) spoke to BBC Radio Berkshire at length about the appointment of Boris Johnson as the next Prime Minister, and is also quoted by Al Jazeera.
Record-breaking heatwave: Dozens of news outlets, including the Daily Mail and Metro, have run an article on the call to name heatwaves, similar to the naming of storms, and quote Dr Peter Inness (Met) on whether July would be the warmest on record. He is also quoted by the Daily Express (Scotland and England) and The Mirror in articles about the heatwave in general, and then again at length by The Telegraph about the best weather apps, which also quotes Professor Paul Williams (Met). Professor Hannah Cloke (Geography)'s comments from last month's heatwave were quoted in an article by Bustle and The Washington Time.
Llama-mania: Several news outlets, including The Evening Standard, The Reading Chronicle, BBC Radio Berkshire, Heart Radio, Kerrang Radio, reported on the naming of our baby llama, with the name Jeremy winning in an online poll over Boris.
Chinese Football: Dr James Reade (Economics) spoke to Share Radio about the influence of European football in China, and vice versa.
NBC 5 in New York featured a report on the impact having ice cream for breakfast has on alertness, citing a report published by the University.
A book produced by meteorologists at the university on the history of weather was mentioned in an interview with Dr Eddy Graham from the Royal Meteorological Society on BBC Radio Berkshire.
Heart Radio featured a brief report on the announcement that a new piece of artwork is due to be installed at the Whiteknights campus.
Student Joe Edmonds (Environmental Management) has written an article for the New Forest National Park website about Dig Burley, an archaeological project in Hampshire.