Reading in the News - Thurs 25 July
25 July 2019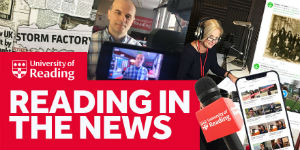 Heatwave:
Alzheimer's test: Dr Francesco Tamagnini (Pharmacology) spoke to BBC Radio Berkshire about research into electricity in the brain, and how it could be used to test for early warning signs of Alzheimer's disease.
ThirdSector reports on Frances Clark being announced as the winner of the Henley Business School and Third Sector scholarship. Frances will receive a full scholarship for the Professional Certificate in Coaching course starting in September.
The Reading Chronicle has a story on Nevaeh Small, who has been nominated for the Pride of Reading Young Person of the Year Award, which is sponsored by the University.
John Bercow MP's visit to the University in 2016 is mentioned in a report by The Express, among other outlets, on why the UK needs a new constitution.