Record-breaking weather as temperatures hit all-time high for July
25 July 2019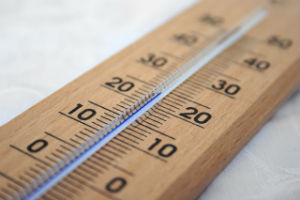 Temperatures in Reading have hit their highest for July since records began, according to the University of Reading.
The temperature at the University's atmospheric observation centre at Earley Gate hit 36.3°C at 2.40pm, just one-tenth of a degree Celsius shy of the all-time Reading record of 36.4°C which was set in August 2003.
The measurement beat the previous record for July temperatures, which was set at 35.3°C in July 2006.
Records across the UK have also been broken, with 38.1°C being recorded in Cambridge, but the Met Office believes that the all-time high of 38.5°C could still be broken.
Stephen Burt, Visiting Fellow of the University's Meteorology department, said:
"Today was the hottest July day yet recorded at the University of Reading, whose records began in 1908. The temperature reached 36.3°C at 2.40 p.m., a full degree above the previous July record, namely 35.3°C recorded on 19 July 2006.
"This was tantalisingly close to the university's all-time record, which is just a tenth of a degree greater: 36.4°C was attained on 10 August 2003. Today was only the third time since 1908 that 36°C has been reached in Reading - the other occasion was back in 1911, when 36.0°C was reached on 9 August that year.
"After another hot and sticky night tonight, probably not getting much below 18°C even in rural districts, we can expect a much cooler day tomorrow as an Atlantic cold front sweeps eastwards over the country bringing some rain and taking temperatures back down to the normal for the time of year, around 23°C in Reading. No doubt a very welcome relief for many."
Dr Jon Shonk, Research Scientist at the National Centre for Atmospheric Science at the University of Reading, said:
"The reason for the present spell of hot weather is the arrival of hot air from over Europe. France is in the grip an extreme heatwave at the moment, with hot air heading north from Africa. This air has been influencing most of western Europe over the past few days, but today an approaching low pressure system from the west has southerly winds ahead of it, which look set to pull the hot air from France over much of the UK.
"The heatwave looks to be short-lived, though, as the low pressure system passes through on Friday with its cold front sweeping the hot air away and temperatures will return to the July average.
"There is a clear link between climate change and heatwaves. What we are experiencing today is an extreme, record-breaking heatwave event. But as the climate warms, these extreme events will become even hotter. In other words, the sort of heatwaves we are experiencing today could become more frequent in future years as the climate warms.
"While we cannot directly link a single heatwave event to climate change, we can look at trends in heatwaves. We have been experiencing warmer heatwave conditions in the last few years, such as the long, hot spell in June and July 2018."