Reading in the news - Mon 3 Jun
03 June 2019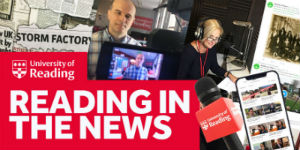 Graduation gowns: A Reading Students' Union vote to lower the cost of graduation gown hire is mentioned in a Sunday Times article on students being unhappy with the lack of choice of hire company.
Storm names: ITV Meridian's weather presenter explained research led by Professor Andrew Charlton-Perez (Meteorology) that shows naming storms is an effective way of spreading information about the risks they pose. Read our news story.
City clouds: Meteorology research on how large cities are producing their own clouds is covered by Science Magazine and Smithsonian Magazine. Read our news story here.
Processed food: Dr Gunter Kuhnle (Food & Nutritional Sciences) is quoted in iNews and Food Manufacturer on a study that showed ultra-processed foods are bad for our health.
Other coverage
The Reading Chronicle reports on a new network of Thames Valley companies and institutions aimed at promoting diversity.
The Reading Chronicle reports that Reading International, a series of exhibitions and events led by the School of Art, is a finalist in the Reading Cultural Awards 2019, in the Cultural Organisation of the Year category.
Hindustan Times quotes Akshay Deoras, a Meteorology PhD student, on the latest monsoon forecast in India.
Crop Production Magazine quotes Dr Sarah Duddigan (Agriculture) on new methods of measuring soil health. Dr Mark Shanahan (Politics & International Relations) spoke to BBC Radio Berkshire about the results of the European elections.
Jewish Chronicle (print) and the Christian Institute quote Professor Rosa Freedman (School of Law) on potential issues that will need to be considered after changes to transgender rights.
Independent Education Today references a Reading study (Psychology) on how children are motivated by one another in the classroom in a story on emotional contagion.
Nutrition Insight reports on a synthetic CBD treatment for epilepsy being developed by the University of Reading and partners.
A letter signed by 250 academics, including scientists at the University of Reading, to Theresa May asking her to raise the issue of climate change with Donald Trump during his UK visit this week was mentioned on BBC Radio Berkshire. Read our news story here.
Neatorama reports on a study by Emily Hards (Psychology) on how teenagers see themselves.
Computer Arts Magazine lists some of the University of Reading's summer graduate shows in creative subjects in its annual round up.