Reading in the News - Tues 4 June
04 June 2019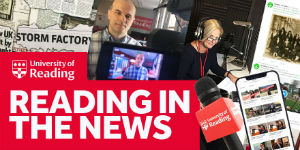 President Trump: Dr Mark Shanahan (Politics & IR) spoke to BBC News, BBC News 24, BBC Berkshire and BBC Ulster about the President of the United States' visit to the UK. Further coverage of a letter signed by 250 academics, including 17 scientists at the University of Reading, to Theresa May asking her to raise the issue of climate change with Donald Trump during his UK visit this week was mentioned by BBC Radio Berkshire. Read our news story here.
Man-made emissions: Dr Laura Wilcox (National Centre for Atmospheric Science) spoke to BBC World about measuring carbon dioxide emissions caused by humans, compared with the amount that is created by volcanoes such as Mount Etna.
Ancient pollution: Dr Joy Singarayer (Met) is quoted by various outlets, including the Daily Mail and IFL Science, about the effect Ancient Romans' fires had on the climate across Europe.
Dr Rodrigo Perez Vega (Marketing & Reputation) is quoted by Elite Business about Uber's decision to ban poorly rated users from its app.
Dr Gunter Kuhnle (Nutrition) is quoted by Food Manufacture about the confusing 'ultra-processed' labelling of foods.
The Sun mentions a University of Reading study into the effect of drinking blueberry juice before exams to increase speed and accuracy.