Reading in the News - Weds 5 June
05 June 2019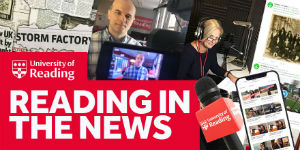 European elections: Dr Daphne Halikiopoulou (Politics & IR) wrote an article for El Pais on the rise of populist, right-wing parties in Europe.
President Trump: Dr Mark Shanahan (Politics & IR) spoke to Al Jazeera about the supposed 'special relationship' between Britain and the United States. He is also quoted by several news outlets, including the Ghana Guardian. A comment piece by Frontpage Mag also mentions Dr Shanahan.
World Pest Day: The British Pest Control Association marks World Pest Day with a warning to local authorities to put pest control on their radar, with 24Housing citing a study by the University on poison-resistant pests.
New employee experience: Dr Washika Haak-Saheem (International Business & Strategy) is quoted by Raconteur in an article on employee experience and engagement within the first days of a new job.
Other coverage
GetReading has mentioned the University in an article about a project to solve Berkshire's traffic congestion.
NaturalNews mentions Professor Ian Givens (Animal Dairy & Food Chain Sciences) in an article about the different foods to eat at different life stages.