Health and Life Sciences Building topping out ceremony held
05 June 2019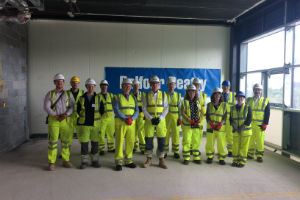 The completion of the external structure of the University of Reading's new £60m Health and Life Sciences Building has been marked with a topping out ceremony.
The event on 3 June was attended by Professor Robert Van de Noort, Vice-Chancellor of the University, and some of those who have played a key role in the project: Janis Pich, Head of Estates; Graham Luke, Technical Head of Teaching and Research Development; and Amanda Callaghan, curator of the Cole Museum, which will be relocated into the new building.
The School of Biological Sciences was represented by Phil Dash, Director of Teaching and Learning for the School, and Andrew Cripps, Head of Technical Head Services.
Jeff Carter, Project lead for Balfour Beatty, gave an overview of the project to date, including some key statistics. He also spoke about the involvement of students from the School of Built Environment in the project, which extends to supporting four MSc students with their dissertations. After this, the guests went to the site, which was the first time the Vice-Chancellor has visited the new building.
Professor Van de Noort said: "It's a very impressive building; it's much bigger inside than it looks from outside. Colleagues and students will very much enjoy the new facilities. Importantly the building not only ties together research and teaching and learning in the School, but includes the cultural element of the Cole Museum on the ground floor."
Following the tour, guests all signed the inside of the external wall in what will become the Head of School's office. This will not be visible in the completed building.
The Health and Life Sciences building is an investment by the University in response to the number of students in the School of Biological Sciences increasing in recent years. The building will consolidate the School into one purpose-built facility, bringing elements that are currently scattered around campus into one designated Life Sciences zone.
The building will feature a range of teaching and research laboratories and seminar rooms, a bio-resource unit, a new location for the Cole Museum of Zoology and a new cafe.
Work began in 2017 and the building is expected to open by the end of 2019.