Gold medal for Reading student at Chelsea Flower Show
03 June 2019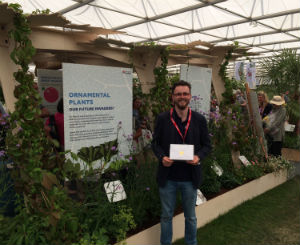 An interactive Chelsea Flower Show display of invasive plants created by a PhD student and academics at the University of Reading has been awarded a Gold Medal by Royal Horticultural Society judges.
Biological Sciences PhD student Tomos Jones grew dozens of ornamental plants either currently classified as invasive or reported as invasive by British and Irish gardeners for the exhibit in the Great Pavilion, titled 'Ornamental Plants: Our Future Invaders'. The aim of the exhibit was to make gardeners think carefully about their role in plant invasions and how they could garden responsibly, but creatively, and reduce the risk of growing a new invasive species.
The judges praised the horticultural quality of the plants on display and the clarity of the message about the issue of invasive plant. More than 120 gardeners contributed to the research survey at the show and this remains open for gardeners in Britain and Ireland.
Contribute to the survey here >>>
Tomos Jones said "It has been a hugely enjoyable experience preparing for RHS Chelsea, especially the collaborative nature of our exhibit. To be awarded a Gold Medal is a fantastic feeling; my first memory of gardening is growing sunflowers in old biscuit tins – having the plants looking perfect for Chelsea was a bit more of a challenge!"
Alastair Culham "I have exhibited at RHS Chelsea many times but this University of Reading display has caused the greatest public reaction and engagement I've ever seen. Many visitors stayed to read all the information, talk to our volunteers and complete the online survey. Reactions varied from 'Oh dear, I've got all of these in the garden' to 'Now I can finally dig up that buddleja'."The University's stand was a collaborative effort. The School of Biological Sciences selected and prepared the plants for display and led on the scientific research, with the choice of plants being the result of a recent survey as part of Tomos' research. The School of Architecture designed an impressive 2.4m high giant rhubarb structure to tower over the stand and students in the Department of Typography & Graphic Communication designed the information boards and leaflets.
The stand highlighted the important role that gardeners play in preventing invasive ornamental plants from escaping into the countryside, through their choice of plants, adopting good gardening practices and disposing of plants responsibly.
Chelsea Flower Show is famous across the world and attracts 160,000 visitors every year including members of the royal family.
This is the first University stand for several years and it was a proud moment to return to the show with a Gold Medal.