Business network to champion workplace diversity launched
07 June 2019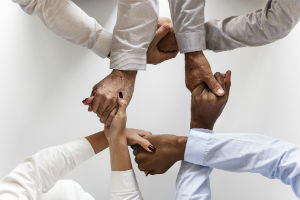 A corporate network of more than 30 businesses from the Thames Valley region has been set up to champion diversity in the workplace.
The University of Reading, Oracle and Thames Water have worked in partnership to create the Thames Valley Race Equity and Cultural Harmony (REACH) Network, with member companies committing to working together to attract, progress and retain diverse talent at every level across their businesses.
More than 50 representatives of the Thames Valley business community attended a launch event on Friday 17 May for a thought-provoking afternoon of reflection, discussions, learning and networking, as well as providing an opportunity to share practical tips on how employers can proactively engage with staff to understand structural and cultural barriers linked to race equity in the workplace, defining sustainable interventions which can enable businesses to be more inclusive for attracting and retaining talent from a range of backgrounds.
Simon Chandler Wilde, Dean for Diversity and Inclusion said:
"At the University of Reading, we were delighted to partner with Thames Water and Oracle in planning the event and be present in force on the day, discussing issues that we have in common with working towards race equity, including how we can get conversations happening about race in our organisations, and how we can attract and retain the best talent.
"We look forward to working in a new regional network with Thames Water, Oracle, and many other partners to share good practice on working towards race equity. This complements work that we are already doing sharing best practice in relation to our LGBT+ employees."
Guest speakers at the launch event included Minister for Employment Alok Sharma MP, who discussed the #explainorchange initiative, encouraging everyone to initiate conversations about race disparity and consider the impact of race on people's lived experiences.
Rob Neil, Head of Project at the Ministry of Justice shared the tops tips he had gleaned through his work on how to initiate change and enable organisations to get conversations started on race equity.
He said:
"A focus on inclusion is morally right for business, and businesses with diverse staff are 35 per cent more likely to financially perform better than industry peers.
"All of us have a role to change the culture of our organisations from within. We need to understand stereotypes, identify bias and impact, most of all choose our role and action. We need to start with inclusion and diversity will follow."
Carole Carpenter is the Director of HR at the Berkshire NHS Trust shared information on their Making it Right programme which proactively aims to enable BAME staff to progress within the organisation.
The presentations were followed by a session where participants discussed activities and opportunities that they would like to use to work in partnership to promote race equity and cultural inclusion. The key activities identified include:
Cross company networking – Destigmatising and enabling conversations about race (it's okay to ask!) creating a safe, open, transparent and inclusive environment. Includes extending the invite to members of our supply chain and the job centre

Mentoring

–Cross industry mentoring and reverse mentoring, sharing Return on Investment and evidencing the benefits of this approach

Create platform to share best practice

– This includes experiences and successes in relation to recruitment, progression and retention as well as other themes both at face-to-face meetings, via email and social media LinkedIn group and a regular network newsletter

Senior leadership collaboration

–Visible collaboration from MPs and CEO's to leaders and senior managers across companies

Charter/ inclusion commitment

– Work towards signing up to a collective cross-industry charter e.g. Business in the Community (BITC) Race Equality Charter

Role models

– Support our peers and act as role models
The REACH Network has agreed to meet on a quarterly basis, with the next meeting scheduled for October at the University of Reading.