Reading in the news - Mon 10 Jun
10 June 2019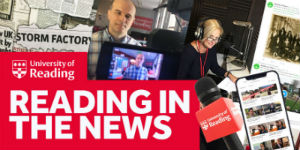 Queen's Birthday Honours: Professor Hannah Cloke (GES and Meteorology) was awarded an OBE in the Queen's Birthday Honours this weekend. This is reported by Times Higher Education, the Times, iNews, Express, Herald Scotland, NY Times Post, Get Reading, Wokingham Paper and Sam FM. Read our news story.
Listeria outbreak: Dr Kimon-Andrea Karatzas (Food & Nutritional Sciences) is quoted in several articles on the listeria outbreak that killed three patients in hospitals in the north west of England. He is quoted in the Daily Mail, the Sun, Telegraph and Medical Health News.
Roman pollution: New Scientist quotes Dr Joy Singarayer (Meteorology) on how fires in Roman times were an early example of how humans have affected the Earth's climate.
Nancy Astor: This Week In Parliament on BBC One news reports that letters from the Astor Archives at the University of Reading have gone on display at Lady Astor's former home in Cliveden. Read our news story on the Astor 100 programme, led by Dr Jacqui Turner (History).
Soapbox Science: PhD researcher Vicky Boult (Zoology) spoke to BBC Radio Berkshire ahead of a public science event in Reading involving several female scientists from the University. Read our news story.
Guardian University Guide: The 2020 Guardian University Guide rankings were released on Friday, with the University of Reading's page updated on the Guardian website.
Other coverage
Universities UK reports on more UK students heading abroad to study, mentioning a School of Art collaboration with Musashino Art University as an example of international programmes by UK universities.
BBC World news used clips from Newsnight last week where Professor Kate Williams (History) gave her thoughts.
Sputnik News quotes Dr Mark Shanahan (Politics & International Relations) on Trump's visit to the UK last week.
A BBC Radio Leicester interview with the godson and relative of Ladybird Book illustrator John T Kenny, who is due to be commemorated with a green plaque, mentioned the Ladybird artwork archives in the University of Reading's Special Collections.
A student exhibition
A Henley Business School graduate, and daughter of the former National Police Commissioner of Thailand, gave an insight into her father's personality to Campus Star.
Reverend Mark Laynesmith, Anglican chaplain at the University of Reading, presented BBC Radio Berkshire and Oxford's 'What I Learnt This Week' segment.