Reading in the News - Tues 11 June
11 June 2019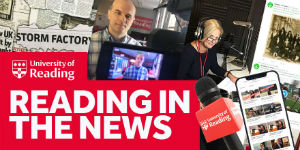 Queen's Birthday Honours: Professor Hannah Cloke (GES and Meteorology) appeared on BBC Radio Berkshire talking about her OBE. She was also mentioned in an article by iNews and Business Green. Read our news story.
Business of football: Dr Shaheena Janjuha-Jivraj (Henley Business School) wrote a column for Forbes on how football can become a game changer for girls' leadership, highlighting the work of global charity Right to Play, which educates children by using sport and play as a medium, in order to create learning opportunities in leadership, life, and survival skills, while challenging gender-based stereotypes.
Tory leadership: Dr Mark Shanahan (Politics & IR) wrote a piece for The Conversation on what young Conservative voters make of the leadership candidates.
Graduate Pay: Professor Kate Williams (History) is quoted in an article by The Guardian on controversial plans to link university fees with graduate pay.
The University's involvement in the World Bee Project to protect pollinators was mentioned in Profi and Computer Weekly.
Professor Bernd Vogel (Henley Business School) gives his tips to People Matters on how to professionals and leaders can future-proof their careers.
The University's Construction Management course is mentioned in an article by Building Talk.
The Henley Standard has an article on the upcoming Reading Guild of Artists show, which takes place at the London Road campus, and features artist in residence Emily Gillmor.
Professor Bhismadev Chakrabarti (Psychology) comments on a study into the prevalence of autism among children in Vietnam, for an article by Medical Health News.
Bustle.com mentions a University study on the effect of blueberries and cocoa consumption on executive function and memory.
Professor Brian Kemp (History) is mentioned in an article by British Archaeology on the search for Henry I's tomb at reading Abbey.
Graduate Jamie Cullum is interviewed by Waitrose Weekend magazine.
A book co-authored by Professor Paul Almond (Law) is reviewed by The Royal Society for the Prevention of Accidents Occupational Safety & Health Journal.