Vegan sports food wins for national innovation prize
12 June 2019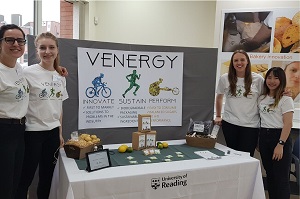 Food students have served up a winning vegan treat, claiming a national food innovation competition for the second time in three years.
The Venergy product was entered into the nationwide Ecotrophelia competition after being developed by final year Food and Nutritional students from the University of Reading. The vegan energy sweets packaged in sustainable wrapping was judged by a dragons den-style panel and won the top prize and a chance to represent the UK in a EU-wide final in October 2019.
Alice Bryant, from the winning Venergy team said:
"We are all delighted to have been chosen as the winners of Ecotrophelia UK. The competition was really tough and it was an amazing experience, we cannot wait for the finals in October."
Now in its seventh year, Ecotrophelia challenges teams of UK students to develop an innovative, eco-friendly food and drink product. A panel of food expert judges carefully assessed a record number of entrants before picking the final five.
Dr Maria Jose Oruna-Concha from the Department of Food and Nutritional Sciences, University of Reading said:
"We're thrilled for the Venergy team for creating a product that stood out to the judges and also delighted for the Keesh team for their third place, and Favalicious team who were shortlisted to represent the University in this year's Ecotrophelia competition showcasing the best student innovation in food products.<!--[if !supportAnnotations]--><!--[endif]-->
"It's testament to the hard work of our students, and the broad range of courses that the teams are made of including food sciences, food technology, nutrition and food consumer science, to have such a strong showing in the final."
The entries from the University of Reading were:
Favalicious: An orange (pepper and tomato), pink (beetroot) and green (spinach and herb) 'hummus style' fava bean dip. It is served with fava bean and wheat-based breadstick, flavoured with beetroot, tomato and basil – University of Reading
Keesh: A vegan, gluten-free and reduced fat quiche-like product made of a sweet potato base packed with roasted vegetables in a chickpea flour filling – University of Reading
Venergy: Lemon and lime energy sweets providing endurance athletes with a vegan sustainable alternative to energy products, by tackling issues with ingredient and packaging sustainability – University of Reading
<!--[if !supportLists]-->

The 'dragons' are senior food experts from across industry including PepsiCo, Coca-Cola, Food Manufacture, Marks & Spencer, Mondelez, Sainsbury's, Tesco, Unilever, Warburtons, Institute of Food Science and Technology (IFST) and Campden BRI.

Professor Richard Frazier, Head of the Department of Food and Nutritional Sciences at the University of Reading said:

"Food and Nutritional Sciences have had a long and distinguished place here at Reading, and I'm delighted and proud that our students are once again recognised among the most innovative in the country.

"Our expertise, support and facilities provide students with a real experience of what it takes to deliver innovation and technical excellence in industry. I look forward to the impact and achievements of these students and their fellow graduates in their future careers."

The UK heat of this Europe-wide competition was organised by UK food and drink research organisation, Campden BRI, in conjunction with the Institute of Food Science & Technology, the independent qualifying body for food professionals in Europe.

Bertrand Emond, Head of Membership and Training at Campden BRI added:

"The food industry faces fundamental challenges including reducing our environmental impact, meeting growing global demand for food, producing more from less as pressure increases on resources, and reformulating and creating new products to meet diet and health requirements. Using science and innovation effectively will be critical to survival and competitive advantage. We must support efforts to unlock, nurture and drive innovation in the industry that helps us to meet these challenges.