Made at Reading: Uni leads fight against environmental threats
17 June 2019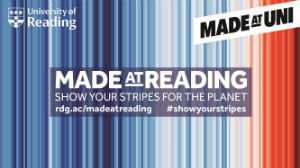 Environmental crises such as climate change and habitat loss are being challenged through world-leading research and community action at the University of Reading, a week-long campaign will highlight.
The work of Reading scientists in areas like flood forecasting, pollinator protection and climate change is being highlighted in the #madeatreading campaign, following Universities UK's 'Made at Uni' scheme, between 17-21 June.
The week will culminate with 'Show Your Stripes' day on Friday 21 June, the summer solstice, when members of the public can help raise awareness of climate change by sharing graphics showing how temperatures in their part of the world have risen since 1850. People can visit showyourstripes.info to generate a climate stripes graphics tailored to where they live and share it to show the reality of a century of rising temperatures.
As well as environment research stories, the University will share the actions it has taken to reduce its own carbon footprint, and how it is working with others in its local community in Berkshire and the wider Thames Valley region to bring about positive change.
"A passion for the environment and sustainability is at the heart of this university" - Professor Robert Van de Noort, Vice-Chancellor, University of Reading
Professor Robert Van de Noort, Vice-Chancellor of the University of Reading, said: "A passion for the environment and sustainability is at the heart of this university. This is reflected in the activities of our increasingly green-minded students, the world class research carried out by our academics, and the decisions made on campus to reduce our own impact on the environment.
"We are actively exploring how we can make the University of Reading a carbon zero institution. This will be challenging, but it is a responsible course of action that is backed by our students and staff, and will be of huge benefit to future generations."
Every day this week there will be a focus on different aspects of Reading's activity:
MONDAY (17 June) Our planet: research into climate, weather and the physical environment

TUESDAY Be red to go green: working towards a sustainable future at Reading
WEDNESDAY Saving nature: research to preserve natural habitats and wildlife

THURSDAY Together for the climate: working in partnership with the community

FRIDAY Show Your Stripes for the climate
The focus today (Monday) is on research on climate change and its impact on people, a research topic on which Reading is a major international player. The University of Reading is among the best in the world for the study of Meteorology and Atmospheric Sciences, ranked second in the world in 2017 by the Center for World University Rankings.
Researchers are seeking to forecast how human activity, including greenhouse gas emissions, will change the world's climate and how climate change will impact our lives. This includes: