Reading in the News - Weds June 19
19 June 2019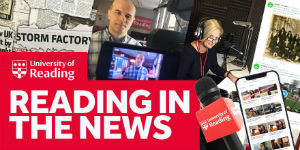 #MadeAtReading: The University's sustainability and environment campaign was covered by:
An interview with Professor Elizabeth Robinson (Applied Economics & Marketing) by BBC Radio Berkshire
A live broadcast from the Whiteknights campus featuring an interview with Dr Vicky Boult (Meteorology)
The Energyst has an article on the University's 40% carbon footprint reduction, which was also covered by BBC Radio Berkshire, in an interview with Dan Fernbank (Sustainability), and an article by the Reading Chronicle.
Professor Ed Hawkin (NCAS)'s climate stripes graphic, which is the focus of Climate Stripes Day this Friday, was featured in articles by a number of outlets, including Science Alert; and BBC Radio Berkshire in an interview with Professor Andrew Charlton-Perez; and an article by Reading.co.uk.
Mohamed Morsi: Dr Dina Rezk (History) has written an article for The Conversation on the death of former Egyptian president, Mohamed Morsi.
Ebola epidemic: Professor Ian Jones (Biomedical Sciences) is quoted in an article by Africa News on the ongoing Ebola outbreak in Uganda.
Heads Together and Row: Forbes has an article on Dr Caroline Rook's research into resilience in the workplace, during which she followed the 3,000-mile journey of a rowing team across the Atlantic Ocean.
Other news
An article on four new symptoms of Parkinson's disease, co-written by Dr Patrick Lewis (Pharmacy), has been published by The Conversation.
Professor Jonathan Bignell (Film Theatre & Television) spoke to BBC Radio Berkshire about the new Dracula film, which is being filmed in Bray.
Food and Nutrition Science students who came first and third at the Ecotrophelia UK competition are featured in an article by Cost Sector Catering.
HR Magazine has an article on business side hustles, featuring research by Henley Business School.
Research by the Henley Business School on the regeneration of Bracknell town centre is covered in an article by The Bracknell News.
The World Bee Project, which is a collaboration between the University and Oracle, is the subject of an article by LeMagIT, which quotes Professor Simon Potts (Agri-Environment).
Further coverage of the Neolithic 'fake' islands in Scotland by Yahoo News.