University of Reading Malaysia evolves to face future with confidence
19 June 2019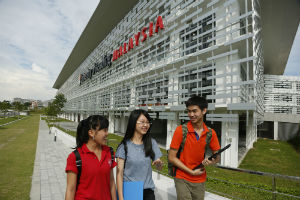 The University of Reading will refocus its campus in EduCity, Malaysia, on core subject areas and will increase collaboration between Malaysia and the UK.
The plan, announced today (19 June), will see the University of Reading Malaysia providing a more concentrated portfolio of foundation and undergraduate degree courses in business, real estate, finance, accounting, quantity surveying and psychology, with a stronger emphasis on graduate employability, professional development and addressing industry demand for much-needed talent.
The University has also received accreditation for a new undergraduate law degree, making it the only international branch campus in Malaysia to do so. The University plans to accept its first cohort of law students from September 2019. The undergraduate pharmacy course, which teaches students for two years in Malaysia and two years in the UK, will no longer accept new students.
Professor Robert Van de Noort, University of Reading Vice-Chancellor, said: "The University of Reading has great confidence in the future of Malaysia and we are committed to make a success of our campus in Johor.
"We continue to grow our global links, and the University of Reading Malaysia allows us to play a leading role in one of the world's fastest-growing and most vibrant regions. Our plan puts our efforts on educating students for their entire degree in Malaysia in sought-after professional subjects, with a strong focus on careers."
The University will seek to further increase collaboration between its Malaysia and UK campuses. The student mobility programme already allows students in Malaysia the opportunity to spend part of their studies on the UK campus, and vice versa, with an increasing number of students taking up the opportunity. This contributes to Reading's growing commitment to bring more international experience and opportunities to all its undergraduate courses, including plans for a new Summer School for global Reading students to begin in Malaysia in 2020.
Professor Wing Lam, Provost and CEO of University of Reading Malaysia, said: "We are confident that with this new focus, the University of Reading Malaysia will continue to provide the internationally recognised, excellent academic experience that our talented students want with valuable global experience."
The comprehensive series of changes will see the University concentrate its operations in the north wing of its campus building in EduCity, Johor Bahru, to optimise use of the campus while focusing on high-quality teaching. A number of staff members will be offered a Mutual Separation Scheme package, with a comprehensive package of financial and health support for them and their families. Further training and advice are being provided by a professional transitioning company, which is already engaged to help source future employment opportunities for colleagues.
Efforts are also underway to improve the student experience at EduCity, including the opening of a new purpose-built student lifestyle hub in October this year providing study and social space accessible on a 24-hour basis, as well as new food and catering options.