Made at Reading: Uni builds community partnerships to drive positive environmental change
20 June 2019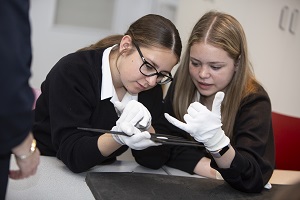 Environmental project partnerships between the University of Reading and community groups are helping to build a more sustainable future for people in Reading and beyond.
One project running this week encourages children to use art to think about future threats to the environment such as climate change, inspired by the University's research.
Elsewhere, University experts are part of flooding groups assessing flood risk in the Thames Valley area, shaping how Reading can develop more sustainably in the future, and providing ethical frameworks to help businesses make positive environmental choices.
The University is highlighting its work to reduce its own carbon footprint as part of 'Made at Reading', a week-long campaign highlighting Reading's environmental research and action. The week culminates in 'Show Your Stripes' day on Friday 21 June, which invites the public to download and share new graphics by Reading researcher Professor Ed Hawkins, which highlight how every corner of the globe is warming. The graphics are available at showyourstripes.info.
Interactive art workshops, run by University of Reading academics and PhD students with artist David Lisser this week, encouraged schoolchildren to think about how the world could change in the future due to environmental threats like climate change, informed by research undertaken across the University.
Pupils visited the University's London Road campus to work with the artist on an interactive art installation. The 'Future Artefacts' models, inspired by fossilised pollen capsules, will go on display at the Museum of English Rural Life (The MERL) until 30 June.
Dr Phil Newton, Research Dean for Environment at the University of Reading said: "We're incredibly lucky to have innovative artist David Lisser interacting with researchers at the University, and then creatively inspiring school pupils to engage with these incredibly important ideas which are relevant to their own lives.
"Pupils will interact with art and science through these workshops, and we hope they will understand the importance of creativity to both."
One of the schools that took part in this week's workshops was Addington SEN School in Woodley.
Teacher Stacey Simpson said: "The students found the workshop fun yet were able to think clearly and creatively about the environment and future scenarios. We were impressed on the amount of ideas and creativity that seemed to flow very naturally from the students."
Other ways the University is working with the community on achieving a sustainable future include: