Food student wins national Young Scientist prize
20 June 2019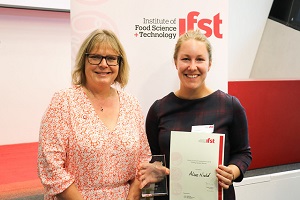 A food and nutritional sciences student has won the national Young Scientist Competition hosted by the Institute of Food Science and Technology.
Alice Nield won the undergraduate award in the national final of the IFST Young Scientist Competition, impressing the judges with her presentation entitled 'Production of GOS from aerobic probiotics'.
Alice said:
"It was a great experience to present my final year research project in front of a panel of judges, and I enjoyed the challenge of presenting this research within a five-minute time-frame and answering questions from industry professionals. It really made me think of the industrial relevance of my project to the food industry.
"It is a real honour to have been awarded the Young Scientist undergraduate prize, up against some very talented students."
IFST Young Scientist Competition provides undergraduate and postgraduate students based in the UK with a chance to present a recently completed project in front of their peers and to a panel of food professionals.
Three Reading students made it through to the regional rounds in the South of England, and alongside Nield, Alice Ponting received third place for her presentation on 'The eating quality of cold-smoked salmon and trout; the effect of the anatomical location of the slice and removal of the pellicle'; and Ellie Read was shortlisted for her presentation on 'The Influence of Dietary Fibre Intake on Body Composition & Cardiometabolic Disease Risk Markers'.