Reading in the news - Mon 24 Jun
24 June 2019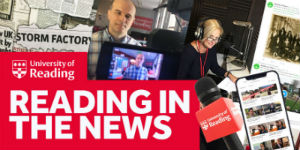 Ancient calendar: New Scientist features research that suggests ancient carvings in Hattusa, Turkey, actually acted as a calendar.
#MadeAtReading: Coverage of Friday's #ShowYourStripes movement continued in the US as the Weather Channel reported on why TV weather presenters were wearing striped clothing and Washington Post, Boston Globe, VICE, Innovators Mag, Eco Business and Fast Company reported on the showyourstripes.info website making graphics available for countries worldwide. Read our news story.
Daniel Dennett on the human brain: New Scientist runs its interview with philosopher Daniel Dennett recorded during a visit to the University in May.
Maths story book: Times Educational Supplement reports on research by Natthapoj Vincent Trakulphadetkrai (IoE) on using stories to teach maths.
Morsi death: An article for The Conversation by Dr Dina Rezk (History) on the presidency of Mohamed Morsi in Egypt is reproduced in the Mail & Guardian and AfroInsider in Africa.
Bracknell regeneration: Get Reading interviews Victor Nicholls (REP) on the Bracknell regeneration project, which was explored in his study 'The Lexicon – Making it happen'.
Other coverage
The Manila Times refers to a study by Dr Nafis Alam (Henley Business School) on the biggest threats to the global economy.
The Weather Channel references Reading Meteorology research from 2004 that showed human-caused climate change was making heatwaves more likely to occur, in an article on this week's forecast hot spell.
A Chessington World of Adventures engineer spoke on Women's Hour on Radio 4 about how a lecture at the University of Reading on the design of rollercoasters led her into her career.
A letter to the Sunday Times arguing that the Diversity Champions programme by LGBT+ charity Stonewall is not a barrier to academic freedom, as was claimed by academics in a previous letter, is signed by several University of Reading academics.
Wonkette uses several images of cows from The MERL's archives in a feature on the prevalence of cow painting in history.
Jon Foster-Pedley, dean and director of Henley Business School Africa, writes an opinion piece for the Daily Maverick on the targets for South Africa laid out in President Cyril Ramaphosa's State of the Nation address.
Geek.com refers to a study by Professor Paul Williams (Meteorology) that shows air turbulence will affect more flights in future due to climate change, after footage emerged of a flight attendant being thrown into the air due to turbulence.
VT.co reports that an ice cream shop in Hertfordshire is now selling pickle ice cream following the owners taking a course at the University of Reading.
The latest on the Mumbai monsoon season is reported by Hindustan Times and Mid-Day, both of which quote PhD student Akshay Deoras (Meteorology).
Management Today includes Reading in a list of the best UK cities for business, mentioning the number of University of Reading graduates who go on to get jobs in the area.
Western Morning News refers to a Reading study (Biological Sciences) on the decline of adders in the British countryside. Read our news story.