Student designers get real job experience through University scheme
26 June 2019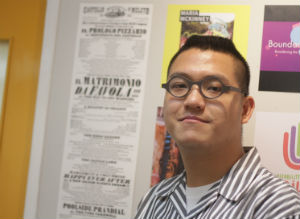 An initiative that allows Graphic Design students at the University of Reading to take on real jobs for clients is celebrating 50 years.
Real Jobs, run by the Department of Typography & Graphic Communication, gives undergraduates the opportunity to produce work for real businesses, charities and other organisations.
For the students, working with clients is a valuable, and often formative experience. For clients, it's a chance for those without large budgets to get professional-standard materials designed to fit their requirements, whether digital or printed.
Work produced by students over five decades is on public display in the Department on the University's Earley Gate campus until 4 July. Clients past, present and future are welcome to come and enjoy this unique take on the evolution of graphic design, through an educational lens.
An archive of recent Real Jobs highlights are listed online here. Work on display at the exhibition includes:
<!--[if !supportLists]-->· <!--[endif]-->Information boards designed for the University's gold-medal-winning Chelsea Flower Show 2019 stand.
<!--[if !supportLists]-->· <!--[endif]-->A book of original writing inspired by Handmaid's Tale author Margaret Atwood, written by English students and endorsed by Atwood herself.
<!--[if !supportLists]-->· <!--[endif]-->A logo, leaflets, T-shirts and stickers for an art exhibition exchange programme at the Tate Modern.
<!--[if !supportLists]-->· <!--[endif]-->A large selection of posters for Reading Film Theatre, which puts on public film screenings on campus.
Siu Yen Lo, 25, a BA Graphic Communication student, worked on three projects under the scheme, including a 19th century theatre-style programmes for a wedding,. He said: "It was a very interesting job because it was a client who knew exactly what she wanted and needed someone to translate that into something visual.
"It wasn't just a campaign or conference, it was someone's wedding. Everything wedding-related is the business of emotion, so it had to be produced to a high standard."
Another BA Graphic Communication student, Liselot Van Veen, 18, said she chose to study at Reading because of the Real Jobs scheme and is currently designing information signs for an owl sanctuary through Real Jobs.
She said: "I have had to think about layout and how the signs are understood. It's not just about making them look good, they have to do the job. We get actual, real life experience of what it's like to work for someone, and with that you get more real life challenges."
Businesses, charities and individuals can apply to Real Jobs to have designs produced by students in exchange for a small donation. Participating students are assigned the jobs and work closely with the client to deliver on their brief.
Client donations go into the Typography Student Fund, which allows students to apply for money to help drive their professional development. This can be anything from being specialist software to attending international design conferences. Students can apply to the fund here.
James Lloyd, Typography and Graphic Communication lecturer and Real Jobs coordinator, said: "The exhibition really is all about the diversity of clients, from business owners who are just getting off the ground to large organisations that value input from highly skilled young people.
"We're incredibly proud of our students. The work they put in is tremendous. The most important aspect of the Real Jobs scheme is the stories they can tell when they go to job interviews. The unique challenges arising from this level of independence are something that they couldn't get from every design course."
The exhibition runs until 4 July. Clients and students can get more information about the scheme on the Real Jobs website.