Reading in the News - Weds 26 June
26 June 2019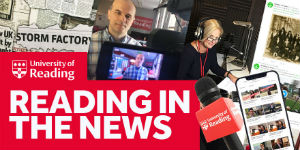 Europe heatwave: A number of outlets, including The Weather Channel, are reporting on the potentially record-breaking heatwave which is sweeping across Europe, with a 2004 study by the meteorologists from the University into human-produced climate change mentioned.
UK flooding: Professor Hannah Cloke (Geography & Environmental Science) is quoted in an article by Wired on extreme rainfall and the future of flooding in the UK.
Air pollution: Professor Bill Collins (Meteorology) is quoted in an article by The Guardian on the fall in early deaths caused by air pollution.
Other news
Professor Eleanor Fisher (International Development) was mentioned in an article by Nature on sustainable development through climate change.
Twisted Food has an article on an ice cream parlour, run by a couple who attended a gelato course at the University in 2013, which has created a pickle flavoured ice cream.