Immersive simulations to inspire young people in Berkshire about health careers
26 June 2019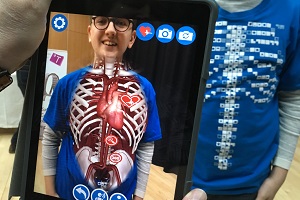 Young people from all backgrounds in Berkshire are being inspired to consider healthcare careers with the help of interactive experiences including a 3D immersive video tent.
HealthReach is touring schools and colleges to provide young people with experiences of various job roles in health and life sciences. The team has been travelling around the Thames Valley Berkshire LEP area and beyond to inspire young people with a range of experiences and simulations including age simulation suits and a 'foldaway ambulance' to learn skills such as CPR.
Dr Rachel South, Head of Global Recruitment (UK and Outreach), said:
"HealthReach is an exciting opportunity to take some of the latest technology used in healthcare education out on the road.
"We recognise that health and life sciences careers are sometimes perceived as being out of reach to some pupils when they look to the future, and so we are excited to provide HealthReach to hopefully inspire young people and give them the necessary tools to access the range of careers open to everyone."
The project is officially launching on Wednesday 26 June 2019 and will be showcasing the new classroom to local young people and invited guests.
Led by the University of Reading, with funding from Health Education England and through Thames Valley Berkshire LEP's Local Growth Fund, HealthReach has already begun operating in schools, colleges and the community in the Berkshire area. It has drawn on expertise from the Royal Berkshire Hospital and Berkshire Healthcare Foundation Trust as part of wider collaboration to reach children around the area.