Researchers honoured through University's impact awards
27 June 2019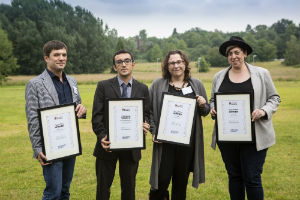 Five academics who have made real-world impact through their work have been honoured by the University of Reading in front of their peers, colleagues and local dignitaries.
Professor Emily Black, Dr Federico Faloppa, Professor Rosa Freedman, Dr Rebecca Emerton and Dr Andrea Ficchi have all been recognised by the University's Research and Engagement Impact Awards for their work to help countless numbers of people around the world.
Pro Vice Chancellor for Research and Innovation, Professor Parveen Yaqoob, who presented the winners with their awards in the University's Meadow Suite on Tuesday 25 June, said:
"Congratulations to all of the winners and finalists. These awards highlight the important work of our researchers, and how they are shaping the world outside of academia."
Guest speaker Paul Manners, director of the National Coordinating Centre for Public Engagement said:
"The competition finalists and winning projects remind us – if we needed reminding – why universities need to ensure their research is engaged with society.
"The finalists' determination to help create a fairer, more just and better governed world, and the skill and care with which their entries were developed and delivered, provide an inspiring example of why this kind of work matters, and how it can be done to the highest standards."
Professor Black's TAMSAT project, which can help insurance companies provide effective cover against drought, allows farmers to get weather-index cover that pays out if cumulative rainfall drops below a pre-agreed threshold, meaning even the remotest smallholder farmers can benefit from a more secure future.
Dr Faloppa has been appointed by Amnesty International Italy to head a 'Centre for Excellence' for monitoring abuse on and offline, setting the centre's research agenda and direct world-class inquiry into hate speech and discrimination, shaping education and campaigns across Italy.
Professor Freedman has been recognised for her work in safeguarding children from sexual exploitation and abuse in conflict and crisis zones. Developing robust guidelines alongside the specialist organisation Keeping Children Safe, Dr Freedman's work has shaped the way peacekeeping forces are recruited and trained and help ensure international standards for child safeguarding are applied worldwide.
Finally, Dr Emerton and Dr Ficchi's work to provide real-time flood briefings has transformed the humanitarian emergency response to cyclones in Mozambique. During Cyclones Idai and Kenneth earlier this year, Dr Emerton and Dr Ficchi's reports helped national and international aid agencies working in the country to deliver aid to those most in need.
Professor Emily Black said:
"I would like to thank everyone involved in the TAMSAT project and everyone who made this happen."
Dr Andrea Ficchi said:
"This is fantastic, I am delighted. I would like to thank everyone who has been involved in our work, and special thanks to all the departments that made this project happen."
Dr Federico Faloppa said:
"I would like to share this award with my research team and all the amazing volunteers in Italy. We do this work because we want to help people, and to help them achieve something. This award is for all of the victims of hate speech."
Professor Rosa Freedman said:
"I just want to say thank you to the University, it is phenomenal working somewhere where impact is valued in this way."
Deputy Mayor of Wokingham Borough, Cllr Malcolm Richards, who attended the awards ceremony on behalf of Wokingham Borough Council said:
"I had a most impressive afternoon looking an array of projects at the Research Engagement and Impact Awards at the University of Reading.
"There was a range of projects at various stages of development on show, and it is encouraging to see this taking place right on our doorstep. It's so exciting to see the work which is being done and the exciting potential benefits which could come from this valuable research."
The full list of shortlisted projects was:
Emily Black – Drought insurance using TAMSAT rainfall estimates
Tony Capstick – Language for resilience in refugee settings
Joanna Clark – Loddon Catchment Consultancy (GV2LCC)
Rebecca Emerton and Andrea Ficchi – Real-time flood briefings for humanitarian emergency response to cyclones in Mozambique
Federico Faloppa – Leading Amnesty International's task force against hate speech in Italy
James Ferryman – Biometrics Research Leads to Frictionless and More Secure Border Crossings
Carol Fuller – Marvellous Mums/Marvellous Me
Rosa Freedman – Safeguarding Children from Sexual Exploitation and Abuse in Conflict and Crisis Zones
Hilary Geoghegan – Opening up science for all (OPENER)
Christopher Newdick – Priority Setting in the NHS
Natthapoj VincentTrakulphadetkrai – Maths through stories
Sue Walker – Information design, architecture, pharmacy: getting the message across about AMR
For more information on the awards, click here.