Glastonbury's mystical atmosphere owes much to its archaeology
28 June 2019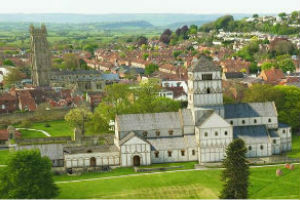 Lingering mystical connections between Glastonbury and the legend of King Arthur and biblical figures have been explored by a University of Reading archaeologist ahead of the annual music festival.
Popular tradition suggests that King Arthur was buried in Glastonbury, and that Joseph of Arimathea carried the Holy Grail to Glastonbury and founded England's first Christian church there. These stories remain a core part of Glastonbury's identity and shaped the pilgrimage traditions of medieval Glastonbury Abbey.
Glastonbury's lure as a hub of spiritual and artistic activity is embodied by the annual music festival, which returns this weekend, but many spiritual seekers carry out pilgrimages to the town each year due to these historical legends.
Roberta Gilchrist, Professor of Archaeology at the University of Reading, said: "Glastonbury is a great example of intangible heritage meeting tangible heritage. What fascinates me is that this has built up over 1,000 years or more. The myths, landscape and archaeology are central to that."
Read more about Glastonbury Abbey research at the University of Reading >>>
Glastonbury Abbey was believed to be the final resting place of the legendary King Arthur, with his body exhumed by the monks and placed in a marble tomb in the Abbey. The tomb and his bones were supposedly lost during the dissolution of the monasteries in the 16th century.
Joseph of Arimathea, who according to the Gospels donated his own tomb to Jesus, is said to have brought the Holy Grail to Britain – the cup Jesus used in the Last Supper and that was used to catch his blood when he was crucified.
While in Glastonbury, Joseph is said to have planted his staff at the top of Wearyall Hill, where a hawthorn then miraculously grew, and washed or buried the Grail at the foot of the Tor. He is also said to have founded Britain's first church in the first or second century, on the site of the Abbey.
This story has been subject to archaeological research by Professor Gilchrist and she spoke this week to National Geographic about the town's history.
Professor Gilchrist will also provide expert commentary on a Channel 5 programme looking at Glastonbury's links with King Arthur. Sacred Sites: King Arthur airs at 7.10pm on Saturday 29 June.
Geography and Environmental Sciences students at the University of Reading are given the opportunity to visit Glastonbury to see some this history themselves on a first-year field trip.