University partners with community scheme to encourage local people to invest in green energy
01 March 2019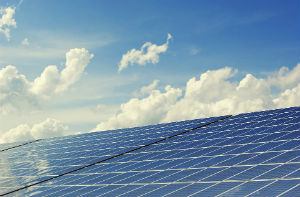 The University of Reading is inviting local residents and members of the community to get involved in its sustainability goals through the launch of a new share offer by the Reading Community Energy Society (RCES).
RCES, a community benefit society owned by its members, is seeking to raise £363,000 in order to install new solar panels on three University buildings, as well as seven additional buildings in the greater Reading area.
RCES already has twelve existing solar energy systems providing clean, green energy to local businesses, re-investing profits back into community fund grants, and saving 145 tonnes of carbon dioxide emissions to date.
The second phase is off to a flying start with panels already in place at Woodford Park Leisure Centre, in collaboration with Woodley Town Council, and a recycling facility owned and operated by Select Environmental Services.
The University will benefit from solar panels on two buildings at its London Road campus, as well as the Museum of English Rural Life's archive store. This will contribute to the University's target of 45 per cent carbon reduction by 2021.
Tony Hoskins, Chair of RCES said "Encouraged by the success of our first group of solar projects, the Directors have worked extremely hard to bring together this new opportunity. As a community benefit society, we aim to build low carbon renewable energy generation to help tackle climate change, to raise funds for community projects and to give local people a chance to get involved and make a real contribution to work of the organisation.
"By launching this second share offer and building more roof-top solar energy systems, we are opening the opportunity to even more people in an around Reading to get involved and join our existing membership. We hope local residents will take the time to visit our website, read the Share Offer document and consider joining us and investing in the new projects."
Janis Pich, Director of Estates at the University of Reading said: "The University of Reading is delighted to be partnering with RCES to deliver increased provision of solar panels in Reading, this builds on our work as a leading University in the area of climate change, enabling us to work with the local community and contributing towards our ambitious target of 45 per cent carbon reduction."
The Share Offer is live now and will run until March 29. More information can be found at https://readingenergy.coop/.
To find out more about how the University is reducing its carbon footprint and managing its environmental impact, visit https://sites.reading.ac.uk/sustainability/.