Reading in the News - 1 March
01 March 2019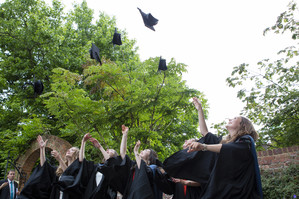 University then and now: Times Higher Education writes about changes in HE in the last 50 years. UoR graduate and journalist Seeta Bhardwa writes about her time studying English in 2009.
Gas forecasting: Research in Environmental Research Letters has found that using weather forecasts can help to make better predictions about gas usage, in Physics World.
Cycling: University Business reports on sustainability efforts by Universities and the role of cycling. The article notes that UoR has supported cycling as a key part of its sustainability strategy and that the Telegraph has previously rated us as the UK's second most cycling friendly institution. In addition, Chain Reaction Cycles reports on research about ebikes and older cyclists.
Other Coverage
The Social Market Foundation notes that Dr Simonetta Longhi (Economics) will be speaking about the ethnicity pay gap.

A new study by PhD student Tomos Jones calling for evidence about alien plant species 'invading' gardens is advertised in The Countryman.

Sputnik News interviewed UoRM Prof Nafis Alam (Henley Business School Malaysia) about which countries benefited from the introduction of the Euro.

Further coverage on BBC Berkshire about the Just IMAGINE if… competition.