Arab Spring academic wins prestigious 'New Generation Thinkers' award
01 March 2019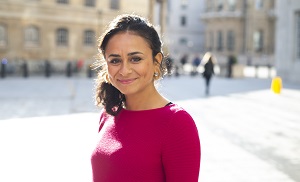 A history academic from the University of Reading has scooped a top prize in Arts and Humanities research.
Dr Dina Rezk, whose research looks at the contemporary history in the Middle East and the role of social media in the Arab Spring was announced as a 'New Generation Thinker' by the Arts and Humanities Research Council (AHRC) in partnership with BBC Arts and BBC Radio 3.
Rezk is one of only 10 researchers from the UK to be awarded the 2019 New Generation Thinkers and the award will support Dr Rezk and the other winners to work with the BBC on communicating their research by making programmes for radio and television.
The final ten Thinkers for 2019 hail from Cardiff University, Birkbeck College, University College London, the Universities of Cambridge, Reading, Huddersfield, St Andrews, and the Royal Central School of Speech and Drama.
The New Generation Thinkers were selected after a national call for the best research ideas with the potential to be shared through the media. They will now have the opportunity to make programmes for Radio 3 and other outlets, as well as contributing to wider media through the AHRC and taking part in the 2019 Being Human Festival. In addition, the scheme partners with BBC Four, where some of the selected academics will be given the opportunity to present a programme for TV.
Professor Andrew Thompson, Executive Chair of the AHRC, says:
"The New Generation Thinkers scheme is all about helping the next generation of researchers to find new and wider audiences for their research by giving them a platform to share their ideas and allowing them to have the space to challenge our thinking.
"The New Generation Thinkers scheme is also one of the major ways the AHRC engages the public with the inspiring research taking place across the UK. More than ever we need the new insights and knowledge that come from arts and humanities researchers to help us navigate through the complexities of our globalised world and address the moral and ethical challenges of today and tomorrow."
The selected academics will be publicly unveiled at a free event recorded as part of BBC Radio 3's Free Thinking Festival at Sage Gateshead on Saturday 30 March. Additional tickets for the festival go on sale today (Friday 1 March), and the event will be broadcast on BBC Radio 3 on Thursday 25 April. As with all Free Thinking programmes, the broadcast will also be on the BBC Radio 3 website, BBC Sounds and as a BBC Arts & Ideas podcast. Further programmes focused on the NGT's research will be aired throughout 2019.
At the Free Thinking Festival, the 2019 New Generation Thinkers will be joined by the 2018 Thinkers, who are recording episodes of BBC Radio 3's The Essay before live audiences at Sage Gateshead. These essays will be broadcast on weeknights at 10:45pm from 1 to 12 April.
Alan Davey, Controller, BBC Radio 3, says:
"Radio 3's mission is to connect our audiences with pioneering music and culture. Since its launch in 2010, the New Generation Thinkers has been a central part of that mission. The scheme has supported and nurtured some extraordinary academic talent, giving the broadcasters of tomorrow a platform through which to present their fascinating and thought-provoking research to our listeners. I can't wait to hear what ideas these ten exciting thinkers will bring to us in the coming year."