Reading in the news - 5 March
05 March 2019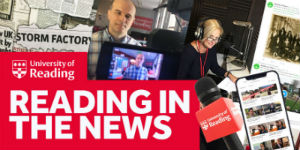 Say what?: Professor Jane Setter (English Language and Applied Linguistics) spoke to BBC Hereford and Worcester about the importance of pronouncing words 'properly' and the evolution of language.
Women's Prize for Fiction: The Evening Standard, Country Living, Cosmopolitan, and Red have all reported on the announcement of the Women's Prize for Fiction longlist, selected by a panel of experts chaired by Professor Kate Williams (History), who is quoted in the articles. The shortlist will be confirmed on April 29 before the winner is announced on June 5.
Citizen Science Project: The Times reports on Operation Weather Rescue, a project led by researchers from the University and the National Centre for Atmospheric Science to digitise 2.5 million meteorological measurements from between 1860 and 1880.
University sustainability: Times Higher Education quotes Vice-Chancellor Professor Robert Van de Noort's foreword of a report by the Financial Sustainability Strategy Group highlighting the shortfall of funding of domestic students faced by several UK universities.
Other Coverage
Professor Len Shaffrey (National Centre for Atmospheric Science) is quoted by The Mail Online about what caused the long, hot summer of 2018.
South East Farmer reports on an innovative willow woodchip trial to tackle apple scab in orchards following research by the University.
Steel Times International reports on nine videos made by IMOA featuring experts on the role of molybdenum in the world, including Emeritus reader Dr Philip Mitchell (Chemistry).
foreignaffairs.co.nz quotes Dr Francesco Tamagnini (Pharmacology) in a report on a paper published in JAMA Neurology which suggests that total tau levels in blood may improve the prediction of future dementia.
World Tea News reports on a study carried out by the University and Bayero University in Nigeria into the cardiovascular benefits of drinking Hibiscus tea.
The Daily Telegraph runs an obituary to author Gillian Freeman, who studied Language and Literature at the University in the 1950s.
London Loves Business reports on the winner of the just IMAGINE if… competition, which was launched by Paul Lindley OBE in partnership with the University, and hosted at the University last week.
A letter by Dr Ruvi Ziegler (Law) on how Britain has become 'a less welcoming place' for migrants is featured in The Times.
The Echo (Cork) has an article on an upcoming talk by Emeritus Professor Richard Bradley (Archaeology) at the Cork Historical & Archaeological Society.