Mindful events bring student mental health into the spotlight
07 March 2019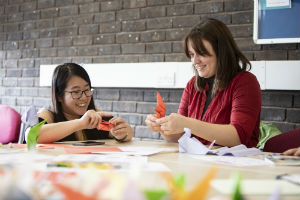 Origami, yoga and a 'positivi-tree' are just some of the activities on offer for students at the University of Reading as part of its University Mental Health Day activities.

From Monday 4 March to Friday 8 March, students are being invited to take some time out from their studies to look after their mental health and exercise mindfulness in their everyday lives.

During the course of the week, the University and the students' union, RUSU, are running a series of events to coincide with University Mental Health Day on Thursday 7 March.
University Mental Health Day is a national day, run jointly by charity Student Minds and the University Mental Health Advisers Network (UMHAN), which sees the university community across the country to make mental health a university-wide priority and to further highlight the issue of student mental health.
Following a theme of 'using your voice' the free events, which are open to students and staff at the University, aim to encourage attendees to talk more openly about mental health in a relaxed and informal way.
One such activity features a 'positivi-tree' inside the students' union, where students were encouraged to add messages chronicling what they are grateful for.
Other activities include a lunchtime bike ride, talks on enhancing resilience and overcoming perfectionism, a mindfulness walk and a sports session in partnership with local charity Sport in Mind.
Jennifer Corless, Student Engagement Manager (Communications), said:
"The theme of this year's University Mental Health Day is all about the power of using your voice.
"We know that Mental health conditions affect one in four people every year in the UK, but it's something that many people still don't feel comfortable talking about.
"By raising awareness of mental health on campus through this week's events and sharing experiences, we hope to start conversations and create a positive change."
Sedtin Wan, Senior International Student Adviser (Student Experience) at the University who helped organise an origami and mindful colouring session, said:
"There was a lot of positive verbal feedback from the session, people enjoyed themselves and learnt something new that they were able to share with their friends and family. One person said the piano music and origami allowed them to be fully relaxed."