University opens up science for all as British festival returns
06 March 2019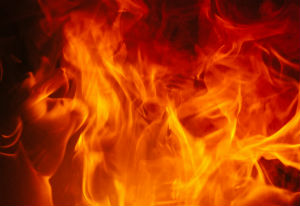 Members of the public can get involved in real science experiments and activities as British Science Week comes to Reading.
The University of Reading is involved in six of the events during the national week (8-17 March). They are inviting people to experiment with fire, get up close with some of the world's smelliest plants and rescue lost weather data from the Victorian era.
Operation Weather Rescue, a citizen science project led by Professor Ed Hawkins in the Department of Meteorology, has been chosen as a profile research project for British Science Week. The project is part of a wider citizen science community at the University - OPENER - which received 12 months' of funding from NERC. It aims to open up science for all, allowing large-scale public involvement in environmental research.
British Science Week events involving the University are:
Fire, Fire burning bright
Saturday 9 March
10am-1pm
Harris Gardens, Whiteknights Campus, University of Reading
Free but booking required
A free event by the Department of Archaeology showcasing one of the most evocative and critical parts of human evolution. Visitors can learn about ongoing research into early campfire technologies and how we can detect fire across Europe from more than half a million years ago.
Book here http://www.reading.ac.uk/news-and-events/about-event-register.aspx
Why are plants smelly?
Sunday 10 March
12pm-3pm
Harris Gardens, Whiteknights Campus, University of Reading
Free but booking required
This aromatic botanical experience for all ages invites the public to immerse themselves in smelly plants – both good and bad – and learn why they smell, how plants use them and their connection with human medicine.
Book by emailing info@readingbotany.net
Mindful Nature Walk
Sunday 10 March
11am-12pm and 3pm-4pm
Meet at the Harris Gardens gates, Whiteknights Campus, University of Reading
Free but spaces limited
A peaceful walk around the award winning Green Flag campus, led by Reading Natural History Group. The walk takes in the trees and wildlife around Whiteknights Lake, the woodland and Harris Gardens.
Great Debate: Can new technologies transform healthcare?
Wednesday 13 March
8pm-9.30pm
G11 Henley Business School, Whiteknights Campus, University of Reading
Free
Four presentations will explore how healthcare has lagged behind other industries when it comes to integrating digital technologies. The presentations will focus on the interaction between humans and computers, innovation at the front line of the NHS, how artificial intelligence could improve care and how technology can be introduced safely.
Book here http://www.reading.ac.uk/news-and-events/about-event-reg-greatdebate.aspx
More than Human
Thursday 14 March
7pm-10pm
The Museum of Rural English Life, Redlands Road, Reading, RG1 5EX
Tickets £4 in advance or £5 on the door (concessions available)
The MERL's popular Late events return with a science special. Activities focus on weather, wildlife, livestock, machinery and more. Plus a silent disco and cocktails, alongside other ongoing exhibitions at the museum, including the Sire art exhibition by Maria McKinney.
Book here https://www.eventbrite.co.uk/e/more-than-human-a-merl-late-for-british-science-week-tickets-55269767362
Weather Rescue Hack-A-Thon
Sunday 16 March
1pm-3pm and 3pm-5pm
Work.Life Reading, 33 King's Road, Reading, RG1 3AR
Free. Bring your own laptop or tablet
A hackathon-style event allowing members of the public to get involved in Operation Weather Rescue – a Department of Meteorology citizen science project digitising Victorian weather records captured between 1860-1880. The help of the public will allow scientists to better understand storms and other weather events from the past in order to better predict them in the future. Participants will also get to hear from a member of the project team and get their weather and climate questions answered.
Book here https://www.eventbrite.co.uk/e/weather-rescue-hack-a-thon-tickets-57278627918
For more information about these and other British Science Week events in Reading, visit http://www.scienceinreading.org/bsw19-local-events/