Reading in the news - 8 March
08 March 2019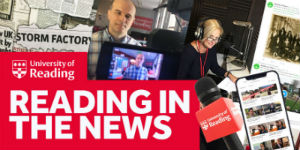 Talking about the weather: A news story appearing in the Daily Mail, Yahoo! News, Irish News and local papers including the suggests that Britons talk about the weather for eight hours a week. The article notes that the British Science Association who ran the survey is promoting Operation Weather Rescue and Prof Ed Hawkins (Met) is quoted.
Women in Business competition: The Financial Times announce the 2019 edition of an Women in Business competition in partnership with Henley Business School in an article in which three women reflect on being raised in a household with a working mother.
Knee pain game changer: A new surgery technique to help people with chronic knee pain from osteoarthritis has been developed in a research collaboration between the Royal Berkshire Hospital and University of Reading. BBC South Today, BBC Berkshire, NIHR and Medical Xpress cover the story and you can read our news story here.
Other Coverage
An article in GetReading for International Women's Day lists 14 inspiring Reading women including UoR academic Edith Morley.
Prof Flora Samuel (Architecture) is mentioned in an article on architectural research for ArchitectureAu.
Investment Week looks at what makes a good leader in modern organisations, and quotes Dr Meredith Belbin (Henley Business School).