Top UN law expert attends Buckingham Palace for International Women's Day 2019
08 March 2019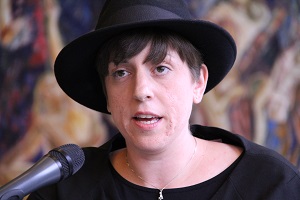 A Human Rights law professor who is playing a vital role in UN efforts to combat sexual exploitation and abuse is attending an event at Buckingham Palace to mark International Women's Day.
Professor Rosa Freedman, who recently accepted an invitation to join a UN Civil Society Advisory Board to prevent sexual exploitation and abuse around the world was invited by HRH The Countess of Wessex to a reception to join leading women peacebuilders, business leaders and members of the Government drawing attention to women peacebuilders who are key in realising lasting peace and security in the most fragile regions across the world.
Professor Freedman said:
"It is an honour to attend the event alongside some of the country's leading lights advancing the Women Peace and Security Agenda to create a more equal world. I am particularly grateful to HRH The Countess of Wessex for drawing attention to such an important issue."
Safeguarding standards for peacekeepers
Children in conflict zones have already benefited from new safeguarding standards for peacekeepers championed by Prof Freedman.
An ongoing collaboration with Keeping Children Safe, a global network of organisations committed to implementing International Child Safeguarding Standards, has helped better to protect many tens of millions at risk of sexual exploitation and abuse in conflict and crisis zones. The collaboration has resulted in several co-authored reports and invitations to advise key actors and institutions, including Keeping Children Safe CEO Sarah Blakemore addressing the Security Council in September.
Following work in Africa, Central and South America, Professor Rosa Freedman from the School of Law at the University of Reading has developed the Safeguarding Children in Peacekeeping Project with Keeping Children Safe to design and implement evidence-based interventions to safeguard children from exploitation and abuse in the context of peacekeeping missions.
Read the report Protection of Civilians and Safeguarding Children here:
https://www.keepingchildrensafe.org.uk/sites/default/files/protection_of_civilians_and_safeguarding_children_report.pdf
Professor Freedman's latest publication with Keeping Children Safe:
Blakemore, S., Freedman, R. and Lemay-Hébert, N. (2019) Child safeguarding in a peacekeeping context: lessons from Liberia. Development in Practice. ISSN 1364-9213 (In Press)
Read more about Rosa's work for the Safeguarding Children in Peacekeeping Project at:
https://research.reading.ac.uk/safeguarding-children/