Student path to success gets major boost
08 March 2019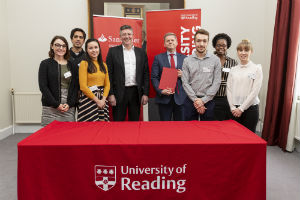 Nearly £200,000 of financial support will help students studying at the University of Reading, regardless of background, to access career and study experiences.
Following the renewal of a three-year partnership agreement with Santander Universities UK, students from zero-income households will receive bursaries to support their studies at Reading, including an overseas study experience and an internship. Funding will also support grants, internships and help for students starting their own businesses.
Santander Universities UK has partnered with the University since 2012 with the new round of funding predominantly allocated to less privileged students to maximise its life changing impact.
Professor Robert Van de Noort, Vice Chancellor of the University of Reading, said: "The University is committed to helping students from all backgrounds to study for a university degree. We exist to change lives, and this funding will allow us to expand this remit to even more people, including those from the most disadvantaged backgrounds. The opportunities to study abroad and carry out internships are of great value as they could not be accessed by some students without financial support.
"I am very grateful to Santander Universities UK for this ongoing support and we look forward to working with them in the coming years."
The new three-year partnership was renewed at a meeting on Thursday (7 March) between Professor Van de Noort and Matt Hutnell, Director of Santander Universities UK.
The agreement ensures £40,000 of funding per year, supplemented by £22,500 for internships each year. Included in the new partnership is:
Seven bursaries for three years for students from zero-income households to study at the University of Reading.
Funding to allow the seven students to each receive £1,250 to support an overseas study experience. In 2019, this will allow students to attend the inaugural NUIST Summer School in Nanjing, China.
Internship funding for up to 20 students, with a focus on disadvantaged students in their final year of study.
Starter grants this autumn for around 35 students from low-income households, to provide necessary kit such as laptops and cookware.
Entrepreneurship funding to continue Henley Business School's Business Bootcamp event, which each year provides a week-long training programme for students and others working to launch their first business. Further funding will also help established businesses located in the University's Business Incubator to advance to the next stage.
The previous three-year scheme provided scholarships for students from Colombia, Brazil and Mexico to study at Reading, allowed the University's rowers to train at an elite facility in Spain and funded a business start-up boot camp for students and local entrepreneurs.
Matt Hutnell, Director of Santander Universities UK, said: "Santander is committed to supporting higher education as well as local communities across the UK. We are proud to continue our partnership with University of Reading for a further three years and look forward to working together in providing even more opportunities which will benefit both students and the local community over the coming years."
Santander, through its Santander Universities division, maintains partnerships with over 1,200 academic institutions in 20 countries. Santander Universities was introduced in the UK in 2007 and the bank is already collaborating with over 80 British Universities and Higher Education Institutions, with agreements focused on promoting international exchange, entrepreneurial activities and the mobility of students and researchers within the network.
For more information on Santander Universities UK partnerships, visit www.santander.co.uk/uk/santander-universities