Teaching assistants to benefit from free online courses
11 March 2019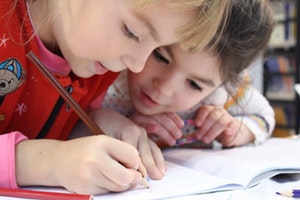 Teaching assistants will benefit from two free online courses developed by a leading expert in education from the University of Reading and online social learning platform, FutureLearn.
The new courses developed for primary and secondary school workers will provide material and guided discussions over four weeks to help teaching assistants and support workers to work with pupils more effectively.
Topics include how to manage a classroom and the psychology behind student behaviour. Learners will also hear first-hand from children about how they explore a learning environment. The course has been designed by Professor Helen Bilton, who brings 35 years of experience in teacher training and education in collaboration with the University's Online Courses team.
Professor Helen Bilton from the Institute of Education at the University of Reading said:
"The two courses have been developed expressly with the purpose of supporting teaching assistants who play an increasingly important role in the classroom. The course is easy to participate in and available online so that there are as few barriers as possible to taking part.
"The courses have been designed to be flexible so that teaching assistants and support workers can take part at a time that suits them, with the first courses starting after the Easter Holidays. We've partnered with FutureLearn so that anyone taking the course can engage with the content together in an online community.
"At a time when schools budgets are squeezed tighter and tighter, developing free resources like these courses is so important to help support continuing professional development."
Nigel Smith, MD of Courses and Learning at FutureLearn, said: "CPD courses for teachers are continually among the most popular on the FutureLearn platform and we're delighted to be offering two new exciting resources with the University of Reading.
"The courses are tailored to teaching assistants at different stages of the school system; making important distinctions between how best to support children at primary and secondary school. Our mission is to transform access to education on a global scale and our online social learning platform allows us to do that. But these courses are a great example of how online can support face-to-face learning, and we are thrilled to be helping empower teaching assistants to work more effectively with students in the classroom setting."
Both courses are now open for enrolment by following the links and will begin on 22 April 2019.
https://www.futurelearn.com/courses/supporting-learning-primary/1
https://www.futurelearn.com/courses/supporting-learning-secondary/1
The Online Courses team at the University of Reading
Our award-winning courses have reached more than 750,000 people from over 190 countries since October 2013. Sharing our expertise in online learning design and insight gained from producing more than 25 public facing courses, the Online Courses team works collaboratively with academic experts and students throughout the University, as well as prestigious external partners such as the British Council, EIT Food and the Royal Meteorological Society. Designed to reach new audiences, our courses provide a window into the wealth of subjects on offer at Reading, whilst retaining the high quality expected of a world-class university.
About FutureLearn
FutureLearn is a leading social learning platform formed in December 2012 by The Open University and is now the largest online learning platform in Europe with nine million people signed up worldwide. FutureLearn uses design, technology and partnerships to create enjoyable, credible and flexible online courses as well as undergraduate and postgraduate degrees that improve working lives. It partners with over a quarter of the world's top universities, as well as organisations such as Accenture, the British Council, CIPD, Raspberry Pi and Health Education England (HEE). It's also involved in government-backed initiatives to address skills gaps such as The Institute of Coding and the National Centre for Computing Education.